Positive Police
Submitted by Fantasia Razorhiney on Wed, 11/28/2012 - 08:22
Sometimes I get disheartened by the posts and comments against law enforcement. I understand it but I wanted to share with you a picture and story being passed around the law enforcement community.
Jennifer Foster of Florence, AZ was visiting Times Square with her husband Nov. 14 when they saw a shoeless man asking for change. She writes, "Right when I was about to approach, one of your officers came up behind him. The officer said, 'I have these size 12 boots for you, they are all-weather. Let's put them on and take care of you.'
The officer squatted down on the ground and proceeded to put socks and the new boots on this man. The officer expected NOTHING in return and did not know I was watching*. I have been in law enforcement for 17 years. I was never so impressed in my life. I did not get the officer's name. It is important, I think, for all of us to remember the real reason we are in this line of work. The reminder this officer gave to our profession in his presentation of human kindness has not been lost on myself or any of the Arizona law enforcement officials with whom this story has been shared."
Our thanks to the Fosters for their attention and appreciation, and especially to this officer, who remains anonymous.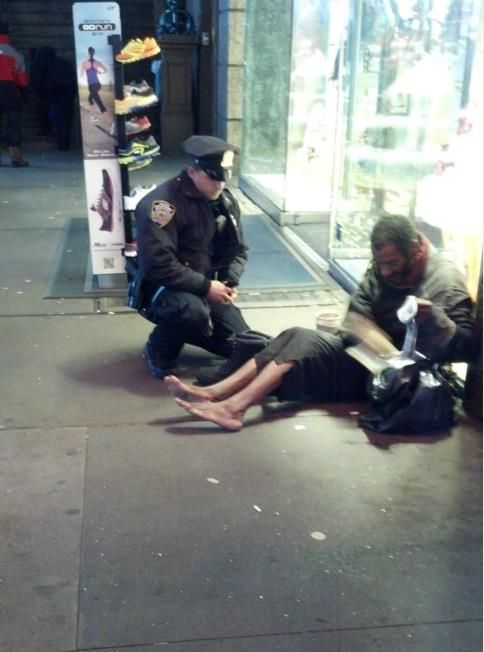 I've posted this before in a comment but I thought it was fitting.
People tend to assume law enforcement, corrections and military people do their job because they love power, which is not always true. I got into the field because I love my community and I love helping people. There are bad apples in every field of employment and of course they get the most attention, overshadowing others that make a self-sacrifice every day. You never know what someone will do with the power given an officer but from my experience in the area I live and work, those who abuse that power do not last in the field for long. The days of the good ole boy system are fading quickly to the point of being offensive. I specialize in the principles of restorative justice in actuality keeping felonies off of young people's records by showing them reinvestment and worth of community involvement.
I also keep people out of prison and felonies off of their records because of substance abuse. I get awards for my revolutionary ideas that actually work, when it's really just common sense and inspired by, well ironically… liberty. One thing you have to understand is regardless of the agency they are elected officials. Sheriff or city (controlled by elected officials) The precedent of a law enforcement agency is set from the top and rolls down hill. I guess I just have to say don't hate us all because we don't hate you.