Afghanistan: Pipelines, Poppy, and the Political Cover of Terrorism
Submitted by RobHino on Mon, 03/11/2013 - 09:50
Have you ever heard of TAPI, the Turkmenistan, Afghanistan, Pakistan, & India Pipeline? How about the IPI, the Iran, Pakistan, India Pipeline? Growing population and thus energy demands in India and China, and those who want to be the ones who supply it are definitely playing a major role in the mis-adventures in Afghanistan and Iran. Mix a few currency wars in with the energy wars, and you get what we have now...political cover to take out the "evil terrorists" and open markets for US and European corporations and financial institutions.
I'm looking for Condoleeza Rice to make some sort of move in the near future since she used to be a member of the board of directors for Chevron (a big player in TAPI), and also headed Chevron's committee on public policy until she resigned on January 15, 2001, to become National Security Advisor to President George W. Bush.
I think our troops will remain in Afghanistan as long as necessary to protect "our" interests. I speculate all the activity in Pakistan has something to do with this too.
Here are a few relevant links for your intellectual consumption...it's a lot to take in I know, but this should get you started!
The TAPI Natural Gas Pipeline: Status & Source of Potential Delays
IP and TAPI in the 'New Great Game': Can Pakistan Keep Its Hopes High?
Iran and Pakistan keep working on IPI gas pipeline project
Understanding Geo-Politics: The Oil & Gas Wars of Central Asia
Did We Declare Economic War on Iran? Connecting the NDAA, Iran, AIPAC, Netanyahu, OPEC, China, NATO & More!
Pipeline project a new Silk Road
Now China may play spoiler to TAPI
90% work on IPI pipeline complete within Iran
Okay...your head is probably spinning by now...I'm curious to know your opinions on the macro-view of the grand chess board that is Central Asia and the Middle East.
UPDATE: A commenter below, herbrp, also pointed out the opium trade, so I put together these interesting maps.
Afghanistan Opium Poppy Cultivation, 2002 (source)

Afghanistan Opium Poppy Cultivation, 2010 (source)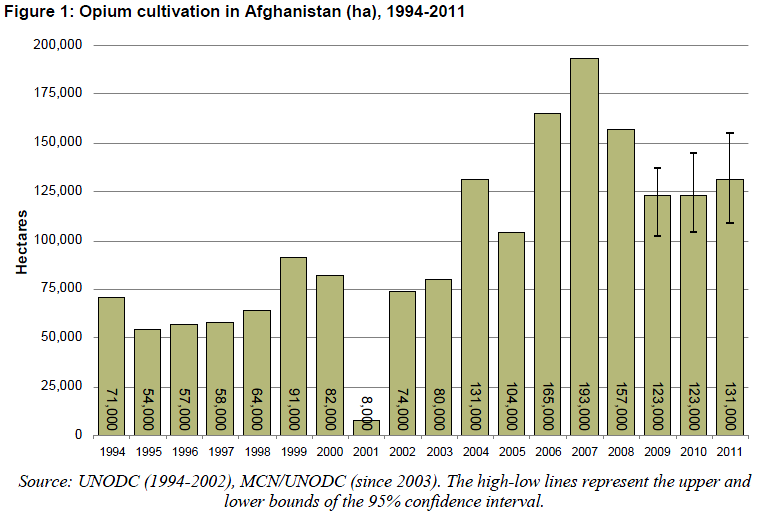 Russia blasts US over Afghan drug scheme

Russia accuses the United States of conspiring with Afghanistan's drug producers by refusing to eradicate opium plantations in the country.

US marines, stationed in the opium-growing Helmand province since February, told the villagers that they do not intend to cut the production, the Russian Foreign Ministry said Sunday.
ISAF Concept of Military Operations for Afghanistan - Fall 2011 and Winter 2012 (source) I'm sure it's just a coincidence that our military focus is conveniently in Silk Road alley and exactly where poppy production has increased and also near valuable minerals. Nothing to see here. Keep moving.

Minerals in Afghanistan (source)

___