Christine Lagarde, IMF Chief raided by French police! IMF €285M person of interest.
Submitted by Mark Twain on Wed, 03/20/2013 - 14:21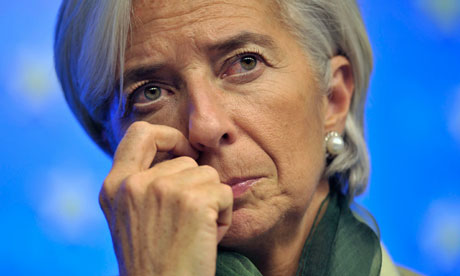 Christine Lagarde's flat raided by French police IMF chief's residence searched amid inquiry into her handling of €285m payout to Nicolas Sarkozy supporter Bernard Tapie. The Guardian, Wednesday 20 March 2013 12.30 EDT
Christine Lagarde's flat was raided along with that of her office manager and the home of businessman Bernard Tapie, a former politician, actor, singer and television celebrity.
The IMF chief has been the subject of preliminary investigations for "complicity in the embezzlement of public funds", since 2011, when Tapie was awarded €284m of public money in compensation in a financial dispute while she was economy minister.
To save? Or not to save?
That is the qutestion. Angela Merkel ~ Germany, Nicolas Sarkozy ~ France and Christine Lagarde ~ IMF. SOS Euro Zone sinking is a sea of liquidiry. Estates Gazette.