Peace! Confederate General Lee surrenders, April 9, 1865
Submitted by Mark Twain on Mon, 04/08/2013 - 21:56

in
52 minute silver screen. 35 K views. Documentary w/ Dramatization, Pictures & Interviews.
General [Grant]:
- I received your letter of this date containing the terms of the surrender of the Army of Northern Virginia as proposed by you. As they are substantially the same as those expressed in your letter of the 8th inst., they are accepted. I will proceed to designate the proper officers to carry the stipulations into effect.
R. E. Lee, General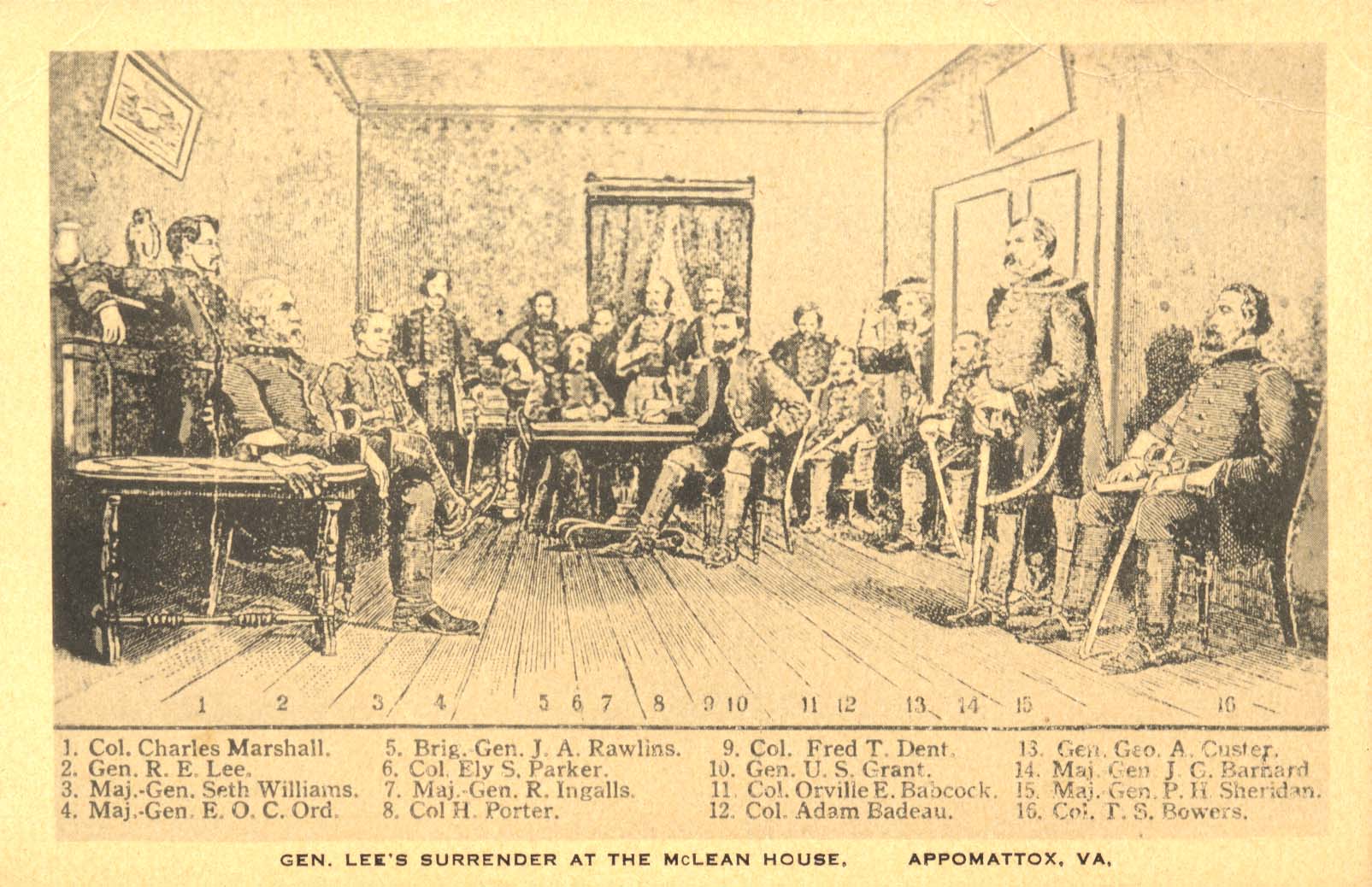 Confederate General Robert E. Lee surrenders his army to Union General Ulysses S. Grant at Appomattox Court House, Virginia.
For more than a week, Lee had tried to outrun Grant to the west of Richmond and Petersburg in Virginia. After a ten-month siege of the two cities, the Union forces broke through the defenses and forced Lee to retreat. The Confederates moved along the Appomattox River, with Union General Phillip Sheridan shadowing them to the south. Lee's army had little food, and they began to desert in large numbers on the retreat. When Lee arrived at Appomattox, he found that his path was blocked. He had no choice but to request a meeting with Grant.
They met at a house in Appomattox at 2:00 p.m. on the afternoon of April 9. Lee was resplendent in his dress uniform and a fine sword at his side. Grant arrived wearing a simple soldier's coat that was muddy from his long ride. The great generals spoke of their service in the Mexican War, and then set about the business at hand. Grant offered generous terms. Officers could keep their side arms, and all men would be immediately released to return home. Any officers and enlisted men who owned horses could take them home, Grant said, to help put crops in the field and carry their families through the next winter. These terms, said Lee, would have "the best possible effect upon the men," and "will do much toward conciliating our people." The papers were signed and Lee prepared to return to his men...
Today in history: General Lee surrenders, ending the Civil War Submitted by fonzdrew, 04/09/2013 - 18:47.
-


APRIL 9, 1865: ROBERT E. LEE SURRENDERS TO ULYSSES S. GRANT Robert E. Lee's farewell address to the Army of Northern Virginia: April 10, 1865 (framed address).