Escape from a large town Massachusetts.
Submitted by Mark Twain on Mon, 05/13/2013 - 15:26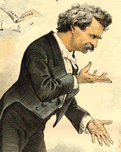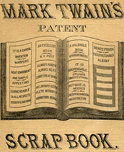 Story of Mark Twains's speech in Boston delivered in 1877 and review twenty-nine years later.
Mark Twain: "I have examined that speech a couple of times since, and have changed my notion about it -- changed it entirely. I find it gross, coarse -- well, I needn't go on with particulars. I didn't like any part of it... I found it always offensive and detestable... I expect this latest version to remain."
In 1906 he added a footnote, as typed for the manuscript of his autobiography: "this latest version" - "It did remain -- until the day before yesterday; then I gave it a final and vigorous reading -- aloud -- and dropped straight back to my former admiration of it. Mark Twin"
Where will we be in 29 years later? ~ Sincerely, Mark Twain