My cat died today
Submitted by GaleRazorwind on Sat, 05/25/2013 - 01:51
"Today, we say good bye to Zephyr, the best cat a man could ask for. After 17 years of adventure and living with cancer for the past year and a half, Zephyr developed a sudden and severe lymphoma which affected her ability to breath, and she was relieved from her suffering this afternoon, here at home in my lap sitting in her favorite chair. Her ashes will be turned into a Life Gem so she can stay with me forever. RIP Zephyr, 12-29-95 to 5-24-13. This picture shows our first and our last moments together:"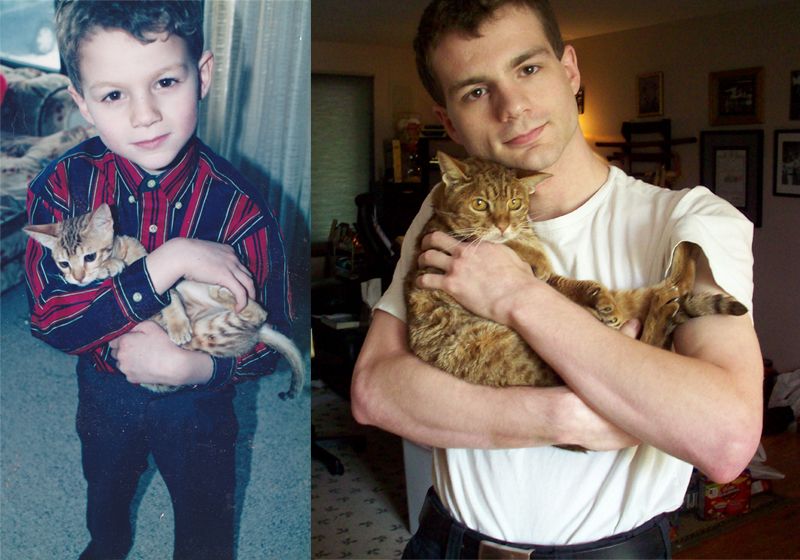 http://i161.photobucket.com/albums/t206/Zephyr89/DanielAndZe...
It all happened so fast, and it was completely unexpected. Zephyr had breast cancer for the past year and a half, but she was doing fairly well considering she was 17 years old. She had seen the vet a week or two ago and they noticed a high white blood cell count, but thought it was likely due to her teeth needing to be cleaned. Today, she went into the vet and she began to have problems with her breathing, which became labored. An X-ray was taken and showed her lung capacity to be at half of normal due to the lymphoma. I was actually at my last day of work, just about to pick up a patient when I was called by my mom, and I quickly rushed home.
At first, she seemed to be okay. She was up and walking around. But closer observation revealed that her breathing was extremely labored. She was in a kitty tripod position, and her nostrils were flaring, and even the slightest movement made it harder for her to breathe. So, with a heavy heart, I made the decision to let her go peacefully. A doctor came to our house a few hours later and performed the procedure.
It still doesn't seem real, though the reality sets in every now and then and I burst into tears. As mentioned, Zephyr's ashes will be turned into a diamond so I can carry her with me forever.
"Death is but a dream:
A brief respite from the waking nightmare.
Search for the truth beyond the great beyond,
And free your mind from life's great deception.
In the collective unconscious, you will find peace."
In my time of grief, I ask for the moral support of the DP community. Thank you for always being there for me!