Adam Kokesh Jail Photo Update: The 'Happy Martyr'? Looks down right Jolly...
Submitted by AnCapMercenary on Sat, 07/13/2013 - 20:03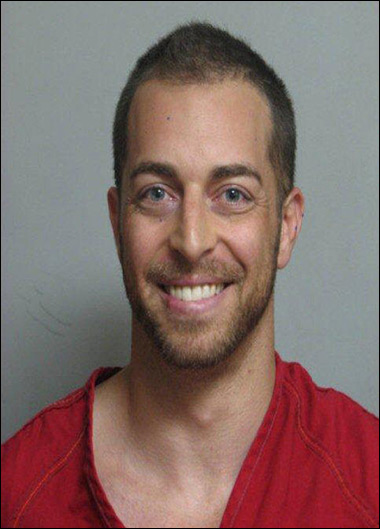 Source: Fairfax County Sheriff's Office
Don't know when it was taken, but from the looks of it, at the time the photo was taken, he looks healthy, for now. Also, he 'Looks' to be in good spirits.
Hope Adam finds whatever internal, personal 'Rock' he needs, to sustain himself, and emerge victorious through this current ordeal.
Whatever anyone may think of Adam, his tactics, and antics, a free man was kidnapped by state thugs, illegally. I for one will pray for his health, and contribute financially what I can. I hope for those of y'all who can, please do so, or consider doing so in the future, thanks.
Legal Fund: http://freeadam.net/legal/
Call Flood: http://freeadam.net/2013/07/10/virginia-call-flood/
Send Mail: http://freeadam.net/2013/07/13/mail/
Adam C. Kokesh
Fairfax County Adult Detention Center
10520 Judicial Drive
Fairfax, VA 22030
Govt FAQ for sending mail to Govt kidnapees: http://www.fairfaxcounty.gov/sheriff/adc.htm
================================================================
There's a rally that was scheduled for today, by my time, I suppose it's over; anyone attend? Any online updates?
"Free Kokesh" rally to be held outside jail on Saturday.
Kit Daniels
Infowars.com
July 12, 2013
Barefoot and wearing the same shorts he was arrested in, combat veteran, radio host and freedom activist Adam Kokesh is still being held without bond in a frigid, ant-infested jail cell less than 50 square feet in size.

Kokesh is currently charged with possession of a Schedule 1 or 2 drug and possession of a Schedule 1 or 2 drug while in possession of a firearm.

A sheriff's deputy informed Kokesh, held at the Fairfax County Adult Detention Center, that authorities are also considering to charge him with armed sedition and illegal transportation of a firearm.
================================================================
Regardless, may Adam come out a better, more dedicated man, at the conclusion of this ordeal.
Please, Pray for him, and his loved ones.
Secularist? Please meditate on good intentions of well being.
Thanks.
================================================================
UPDATE 1: Adam's girlfriend Carey Elizabeth actually got to visit him, recently.
A Message from Adam Kokesh's Girl

http://youtu.be/TzUAOFiMgBY
AdamKokesh
Published on Jul 14, 2013
Stay Tuned for words from Adam himself. The R3VOLUTION grows. You can not stop what we do

Buy agorist! Get your metals from http://agoristmetals.com
adam@adamvstheman.com

Donate Bitcoin: 1BWeuWdgjrP8PFAwBwgwU9BUqJNewScouy
An interesting tidbit? Carey, a Californian, used to be an Obama voter:

http://youtu.be/joWvJm_bja0
Then became a Ron Paul supporter/R3VOL. To now, an AnCap, not to mention a GF to, now an infamous, AnCap activist.
Politics: apparently, sometimes...a love finder. lol.
Eitherway, I'd venture to guess that Dr. Ronald Ernest Paul has single-handedly inspired, and has converted more minarchists to Anarcho-Capitalists/Voluntaryists, than ANY other single person in history!
AVTM's first podcast, since the raid:
Podcast #280 This is what "Gun Control" looks like!

http://youtu.be/1OSyqJPPWnc