In Light of the Zimmerman Acquittal: Time to Polish Up on WHAT Your Rights are, for Lawful Self-Defense Incidents
Submitted by AnCapMercenary on Mon, 07/15/2013 - 00:47
Tips from a pro:
AAR: STATE OF FLORIDA VS. GEORGE ZIMMERMAN
BY Steven Harris
Posted on 07/14/2013
[...]

In no particular order, for non-LEOs and/or LEOs, as may be applicable:

· Train, read, practice. Document it. No matter what any prosecutor says, you can never be too prepared, too smart, or too good.

· Have a plan, maybe two or three. Remember Messrs. Murphy and Finagle lurk 24/7.

· Assume in a fight you will be grounded and/or unable to use one of your hands, even if not seriously injured. Select and position gear (and reloads and backup) accordingly.

· If you go hands-on with a younger, stronger, and quicker opponent, you will last 20 seconds or less if you are not in control. If you are doing something and it isn't working, quickly try something else.

· Shot placement trumps all, except the mind.

· Don't speak unnecessarily to law enforcement and never without counsel. Say only enough to convince them you were in the right. (Maybe you will not be arrested). Law enforcement officers are often friendly, but law enforcement is not your friend. Investigators have taken an oath to do their job properly. Assume (and hope) they will.
About Steven Harris
Steve Harris is an experienced attorney who has represented federal agents and local LEO's in duty related matters. He has written and lectured about officer involved shootings, civilian defensive shootings, and use of force laws, including Stand Your Ground. Steve has been a seasoned and active competitive handgun shooter for over 20 years.
================================================================
*** For those who may not be familiar with 10-8 Performance or Hilton Yam, the proprietor of 10-8 and ModernServiceWeapons.com (where the above article is posted), he is an experienced SWAT commander in FL and a 1911 guru/operator/gunsmith; he's the gunguy's gunguy's gunsmith. His 1911 Armorer Course is one of the most sought after classes in the world:

http://youtu.be/Ugtays9R6xA
Hilton is possibly one of the most deadliest tiny persons around!
If you know how to analyze your 1911 by extractor test (not just the angle of brass extraction... you'll know what I'm talking about if you've done Hilton/Larry Vickers' particular test), well, you'll definitely respect and highly regard him as a mentor in your toolbox. Plus, more so than anyone, he's popularized the U-notched 'rackable' rearsights on the 1911's.

Here's a video primer on lawful self defense; if nothing else, please remember these three words, like a traffic light floating in your eyeballs IF you ever get to be unfortunate enough to be involved in a lethal critical incident:
1. Intent
2. Ability / Capability
3. Opportunity
In most jurisdictions, that is the standard by which most homicides are decided, as to whether it is a lawful, justifiable homicide, or murder.
Yes, that James Yeager, but the info is sound, and if you're not familiar with him or his works, all you'll conclude is from "Pack Your Bags" vids, anyway.
If so, please refer to the following videos by Ayoob, and/or others online or offline, instead.
An old Lenny Magill production, but the fundamental info is still sound. From THE self-defense guru, Massad Ayoob, from his earlier Lethal-Force Inst. days:
http://www.youtube.com/watch?v=F97UDO8eKpE&list=PL3NTofUuGP8...
Please check out both, and seek competent legal advice, on your own, at your own risk. Remember, this is NOT a legal advice. Just an online tip, for what that's worth.
I know that I'm speaking to the libertarian/paleo-con/minarchist/AnCap choir, here, but a reminder, as always: You assume FULL responsibility for all your actions, regardless of the source of the info.
Keep Calm and Tap Rack and Bang...If you carry a Glock.
Or, alternatively, if yours is a non-Hilton Yam/Vickers/Wilson/Baer/Colt/Springfield ie 'all other 1911': TRY to keep calm...as you Tap Rack Bang, Click, Lock the Slide, Rip the Mag, Rack-Rack-Rack toward Gravity, Reload, Rack and Bang x 4!
LOL I kid, I kid. I love all my 1911 and Glock gunnies equally .oD
================================================================
UPDATE 1: Good Guys DO win!
Would-Be Victim Shoots Armed Robber: Police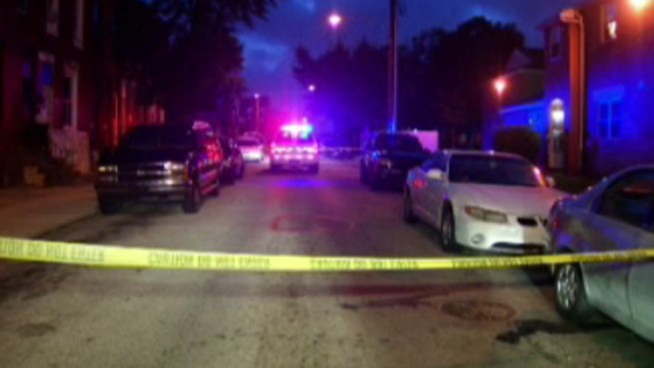 PHOTO: NBC10.com
By David Chang
Sunday, Jul 14, 2013
Updated 12:56 PM EDT
Police say an armed man turned the tables on three gunmen who tried to rob him.

[...]

One of the robbers was struck in the left hand and right leg, according to police. Police say the two other suspects dropped the wounded robber off at Hahnemann Hospital before fleeing the scene. The wounded suspect will be charged, according to investigators. The other two suspects remain on the loose.

The would-be victim was not injured in the shooting. Police say the man has a permit to carry his gun and no record. He will not be charged.
Wow, except this one, the now infamous 2009 Tucson, AZ home invasion where the homeowner thwarted FOUR armed thugs, one armed with an AR, with his own carbine:

http://youtu.be/DuhKCiY-lu0
the above Philly case is one of the few TRUE "Gun Fights" I've read about in recent years between a lawfully armed citizen vs. armed thugs, and the good guy coming out on top, without ANY injuries: 1 vs. 1 hospitalized 2 fled, soon to be jailed moron thugs!