An open letter from Roger Waters
Submitted by Kenny TN on Thu, 08/08/2013 - 14:15

in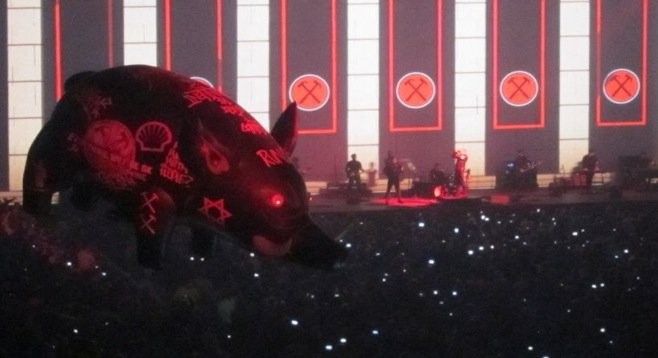 There has been some comment on the Internet about the Wall Show in Belgium to which I feel I should respond.
One Alon Onfus Asif, an Israeli living in Belgium, came to The Wall show in Belgium last week and being an observant sort of chap Alon noticed a Star of David on the Pig that is destroyed by the audience at the end of the show. Then Alon dutifully videoed our Pig on his phone, posted this video, and alerted Israeli Daily, Yediot Ahronot. This story was duly picked up by the ever watchful Rabbi Abraham Cooper, Dean of the Simon Wiesenthal Center and the entirely predictable resulting rant is attached here:
http://www.algemeiner.com/2013/07/24/massive-pig-balloon-at-....
Often I can ignore these attacks but Rabbi Cooper's accusations, are so wild and bigoted they demand a response.
Dear Rabbi Cooper,
I hold your outburst to be inflammatory and un-helpful and would suggest it can only impede progress towards peace and understanding between people. It is also extremely insulting to me personally in that you accuse me of being 'Anti Semitic', 'A Jew Hater' and 'Nazi Sympathizer'
I have three specific points to make:
1). Your use of the adjective "ANTI-SEMITIC".
First I direct you to an announcement by 'The Anti Defamation League' an American organization, who's declared aim is to defend Jewish people and Judaism from attack. They recently said.
"While we wish that Mr. Waters would have avoided using the Star of David, we believe there is no anti-Semitic intent here."
I should point out that in the show, I also use the Crucifix, the Crescent and Star, the Hammer and Sickle, the Shell Oil Logo and The McDonald's Sign, a Dollar Sign and a Mercedes sign.
2). JEW-HATING? I have many very close Jewish friends, one of whom, interestingly enough, is the nephew of the late Simon Wiesenthal. I am proud of that association; Simon Wiesenthal was a great man. Also I have two grandsons who, I love more than life itself, their Mother, my daughter in law, is Jewish and so, in consequence, I'm told, are they.
3). NAZI? Not only did my father, 2nd Lieutenant Eric Fletcher Waters, die in Italy on February 18th 1944 fighting the Nazis, but I was brought up in post war England where I received the most thorough education on the subject of Nazism and where I was spared no horrific detail of the heinous crimes committed in the name of that most foul ideology. I remember my mother's friends Claudette and Maria, I remember their tattoos, they where survivors, two of the lucky ones.
My Mother spent the whole of the rest of her life, involved politically to make sure the future for her children and grandchildren, in fact for everyone's children and grandchildren, black, white, Gentile, Jew, Latino, Asian, Muslim, Hindu, Buddhist, et al, had no Sword of Damocles in the form of the despised Nazi Creed hanging over their heads.
I for my part, as best I can, have continued along my parent's path. At the age of nearly 70, in the spirit of my Father and Mother and all they did, I have stood my ground, as best I can, in defense of Mistress Liberty.
The Wall Show, so lamely attacked by you, is many things. It is thoughtful, life affirming, ecumenical, humane, loving, anti war, anti colonial, pro universal access to the law, pro liberty, pro collaboration, pro dialogue, pro peace, anti authoritarian, anti fascist, anti apartheid, anti dogma, international in spirit, musical and satirical.
It is not.
ANTI-SEMITIC or PRO NAZI
read the rest
https://www.facebook.com/notes/roger-waters-the-wall/an-open...