Nope, Your Eyes are Not Lying to You: NSA Chief, Keith Alexander, is a Star Trek Captain / Dr. Strangelove-Wannabe!
Submitted by AnCapMercenary on Mon, 09/16/2013 - 00:00
As if we needed any more proof that the world has long been hijacked by pathological, sociopathic, murderous crazies who would never pass the "sociopath" test, let alone a random drug test or psych.-eval., then comes this, with a name fit for a video game villain's HQ (completed in 1999): the "Information Dominance Center" at Fort Belvoir, VA.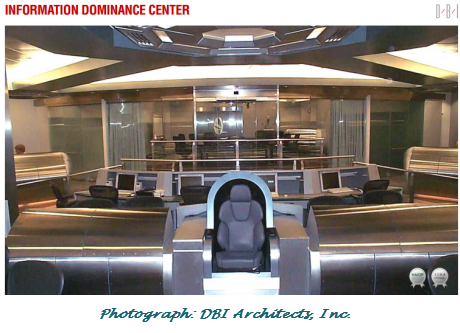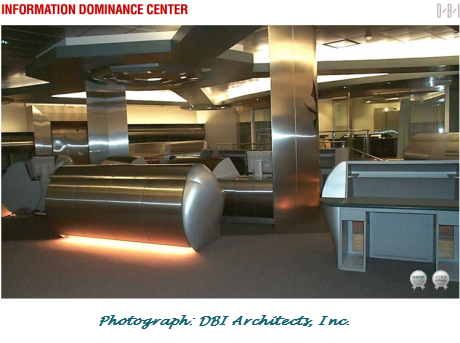 WTF kind of freakshow are 'we' running here???
PBS: NSA director modeled war room after Star Trek's Enterprise
NSA -- September 13, 2013 at 6:31 PM ET
By: News Desk
Congressional leaders already have a lot of power, but do they secretly want to captain the USS Enterprise? In an in-depth profile of NSA Director Keith B. Alexander, Foreign Policy reveals that one of the ways the general endeared himself to lawmakers and officials was to make them feel like Jean-Luc Picard, captain of the starship Enterprise from the TV series "Star Trek: The Next Generation."
Here's Glenn Greenwald's take:
Inside the mind of NSA chief Gen Keith Alexander
A lavish Star Trek room he had built as part of his 'Information Dominance Center' is endlessly revealing
Glenn Greenwald
theguardian.com, Sunday 15 September 2013 08.14 EDT
It has been previously reported that the mentality of NSA chief Gen. Keith Alexander is captured by his motto "Collect it All". It's a get-everything approach he pioneered first when aimed at an enemy population in the middle of a war zone in Iraq, one he has now imported onto US soil, aimed at the domestic population and everyone else.

But a perhaps even more disturbing and revealing vignette into the spy chief's mind comes from a new Foreign Policy article describing what the journal calls his "all-out, barely-legal drive to build the ultimate spy machine". The article describes how even his NSA peers see him as a "cowboy" willing to play fast and loose with legal limits in order to construct a system of ubiquitous surveillance. But the personality driving all of this - not just Alexander's but much of Washington's - is perhaps best captured by this one passage, highlighted by PBS' News Hour in a post entitled: "NSA director modeled war room after Star Trek's Enterprise". The room was christened as part of the "Information Dominance Center":

"When he was running the Army's Intelligence and Security Command, Alexander brought many of his future allies down to Fort Belvoir for a tour of his base of operations, a facility known as the Information Dominance Center. It had been designed by a Hollywood set designer to mimic the bridge of the starship Enterprise from Star Trek, complete with chrome panels, computer stations, a huge TV monitor on the forward wall, and doors that made a 'whoosh' sound when they slid open and closed. Lawmakers and other important officials took turns sitting in a leather 'captain's chair' in the center of the room and watched as Alexander, a lover of science-fiction movies, showed off his data tools on the big screen.

"'Everybody wanted to sit in the chair at least once to pretend he was Jean-Luc Picard,' says a retired officer in charge of VIP visits."

Numerous commentators remarked yesterday on the meaning of all that (note, too, how "Total Information Awareness" was a major scandal in the Bush years, but "Information Dominance Center" - along with things like "Boundless Informant" - are treated as benign or even noble programs in the age of Obama).
H/T: LewRockwell.com
The cited Foreign Policy magazine article:
The Cowboy of the NSA
Inside Gen. Keith Alexander's all-out, barely-legal drive to build the ultimate spy machine.
BY SHANE HARRIS | SEPTEMBER 9, 2013
On Aug. 1, 2005, Lt. Gen. Keith Alexander reported for duty as the 16th director of the National Security Agency, the United States' largest intelligence organization. He seemed perfect for the job. Alexander was a decorated Army intelligence officer and a West Point graduate with master's degrees in systems technology and physics. He had run intelligence operations in combat and had held successive senior-level positions, most recently as the director of an Army intelligence organization and then as the service's overall chief of intelligence. He was both a soldier and a spy, and he had the heart of a tech geek. Many of his peers thought Alexander would make a perfect NSA director. But one prominent person thought otherwise: the prior occupant of that office.

Air Force Gen. Michael Hayden had been running the NSA since 1999, through the 9/11 terrorist attacks and into a new era that found the global eavesdropping agency increasingly focused on Americans' communications inside the United States. At times, Hayden had found himself swimming in the murkiest depths of the law, overseeing programs that other senior officials in government thought violated the Constitution. Now Hayden of all people was worried that Alexander didn't understand the legal sensitivities of that new mission.

"Alexander tended to be a bit of a cowboy: 'Let's not worry about the law. Let's just figure out how to get the job done,'" says a former intelligence official who has worked with both men. "That caused General Hayden some heartburn."

The heartburn first flared up not long after the 2001 terrorist attacks. Alexander was the general in charge of the Army's Intelligence and Security Command (INSCOM) at Fort Belvoir, Virginia. He began insisting that the NSA give him raw, unanalyzed data about suspected terrorists from the agency's massive digital cache, according to three former intelligence officials. Alexander had been building advanced data-mining software and analytic tools, and now he wanted to run them against the NSA's intelligence caches to try to find terrorists who were in the United States or planning attacks on the homeland.
****************************************************************
UPDATE 1: ZeroHedge chimes in with a zinger + more Pix! Actually the additional pictures are the same ones in the above architecture firm's .PDF.
Privacy: the final frontier. These are the voyages of the NSA, as it enters every computer and pries whatever data can be stolen and recorded in perpetuity. Its ongoing mission: to explore the internet and all TCP/IP packets, to seek out new emails, phone records, backdoors, webcams and bank accounts, to boldly go where no man with or without a search warrant has gone before.
The Man In Charge Of The NSA Modeled His Office After The Bridge Of The Starship Enterprise
Submitted by Tyler Durden on 09/15/2013 22:12 -0400
Those who will recall our brief biopic on the "Meet The Man In Charge Of America's Secret Cyber Army" remember that before Keith Alexander was put in charge of the NSA, he "was a one-star general in charge of the Army Intelligence and Security Command, the military's worldwide network of 10,700 spies and eavesdroppers. In March of that year he told his hometown Syracuse newspaper that his job was to discover threats to the country. "We have to stay out in front of our adversary," Alexander said. "It's a chess game, and you don't want to lose this one." But just six months later, Alexander and the rest of the American intelligence community suffered a devastating defeat when they were surprised by the attacks on 9/11. Following the assault, he ordered his Army intercept operators to begin illegally monitoring the phone calls and email of American citizens who had nothing to do with terrorism, including intimate calls between journalists and their spouses. Congress later gave retroactive immunity to the telecoms that assisted the government."

That much is known. What may come as a surprise is that during his tenure at the AISC, Alexander made it quite clear that he perceived himself as none other than Star Trek's James T. Kirk, or to a lesser extent, Jean-Luc Piccard, if only based on how he decorated his "office" - the amusingly titled "Information Dominance Center." Amusingly, because said information dominance failed completely to foresee the events of September 11.
Additional Photos of Dr. Evil's Lair:
Higher resolution versions of the previously posted pictures:
http://www.zerohedge.com/sites/default/files/images/user5/im...