CNN: Former NSA Contractor designs 'Surveillance-Proof' Font
Submitted by AnCapMercenary on Mon, 09/30/2013 - 17:47

in
Former NSA contractor designs 'surveillance-proof' font
By Arion McNicoll, for CNN
September 30, 2013
Updated 1445 GMT (2245 HKT)

Former NSA contractor Sang Mun's ZXX font is designed to disrupt Optical Character Recognition (OCR) -- the software used by Google and others to scan books or physical documents.
STORY HIGHLIGHTS
+ Designer Sang Mun creates 'unhackable' fonts
+ The four fonts are designed to disrupt Optical Character Recognition software
+ Experts suggest that to be effective such fonts would need to be used with encryption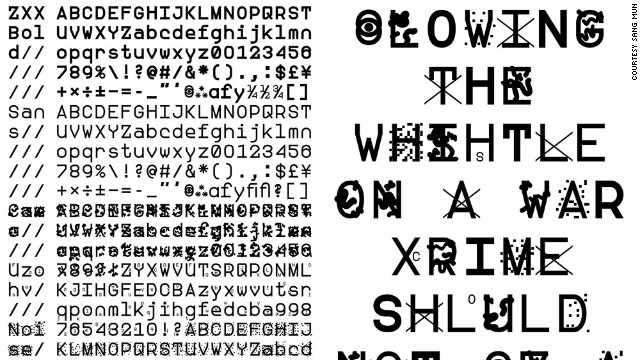 Can this font help protect your privacy?
(CNN) -- Can graphic design help protect your privacy? Sang Mun, a designer and former NSA contractor, thinks so.

Just months after Edward Snowden controversially lifted the lid on digital surveillance being conducted by the U.S. and other governments, the issue of online privacy is back in the spotlight.

Earlier this month Facebook CEO Mark Zuckerberg expressed concern that users' trust in internet companies had been damaged by the revelations. Google's Eric Schmidt also called for greater transparency from the U.S. government over surveillance.
H/T: Becky Akers @ LewRockwell.com
RELATED:
NYT Reporting NSA Spying On Anyone SUSPECTED Of A Crime!

http://youtu.be/iSCagoyjPaA
MOXNEWSd0tC0M
Published on Sep 30, 2013
September 30, 2013 CBC News
http://MOXNews.com
RELATED
SHOCKING! (Okay...Not Really, by Now) NYT: NSA spying on Anyone Suspected of a 'Crime!'
TechDirt.com: "NSA Has Built Its Own, Secret, Warrantless, Shadow Social Network, And You've Already Joined It"!
NSA Has Built Its Own, Secret, Warrantless, Shadow Social Network, And You've Already Joined It
by Mike Masnick | (Mis)Uses of Technology
Mon, Sep 30th 2013 5:43am
Somewhat amazingly, the new report notes that in 2006, the NSA asked the Justice Department for permission to do exactly this sort of thing, and was rejected, saying that a "misuse" of that kind of data "could raise serious concerns." Indeed, it could, and does raise serious concerns, but apparently the current administration just doesn't give a crap.
[As in, even GWB's regime actually gave slightly more crap about their Constitutional Oath, than oBUSHma; indeed, as Sy Hersh asserted: Obama is worse than Bush.]

Soon after the very earliest reporting on Ed Snowden's leaked documents about PRISM, the folks from Datacoup put together the very amusing GETPRSM website, which looks very much like the announcement of a new social network, but (the joke is) it's really the NSA scooping up all our data and making the connections. It's pretty funny. Except, of course, when you find out that it's real. And, yes, that seems to be the latest revelation out of Ed Snowden's leaks. The NY Times has an article by James Risen and Laura Poitras (what a combo reporting team there!) detailing how the NSA has basically built its own "shadow" social network in which it tries to create a "social graph" of pretty much everyone that everyone knows, foreign or American, and it all happens (of course) without a warrant. And, note, this is relatively new:

The agency was authorized to conduct "large-scale graph analysis on very large sets of communications metadata without having to check foreignness" of every e-mail address, phone number or other identifier, the document said. Because of concerns about infringing on the privacy of American citizens, the computer analysis of such data had previously been permitted only for foreigners.

The agency can augment the communications data with material from public, commercial and other sources, including bank codes, insurance information, Facebook profiles, passenger manifests, voter registration rolls and GPS location information, as well as property records and unspecified tax data, according to the documents. They do not indicate any restrictions on the use of such "enrichment" data, and several former senior Obama administration officials said the agency drew on it for both Americans and foreigners.

There were apparently two policy changes that allowed this to happen, and both occurred in the past three years. First, in November of 2010, the NSA was allowed to start looking at phone call and email logs of Americans to try to help figure out associations for "foreign intelligence purposes." Note that phrase. We'll come back to it. For years, the NSA had been barred from viewing any content on US persons, and the NSA, President Obama and others have continued to insist to this day that there are minimization procedures that prevent spying on Americans. Except, this latest revelation shows that, yet again, this isn't actually true.

The second policy change came in January of 2011, when the NSA was told it could start creating this massive "social graph" on Americans without having to make sure they weren't Americans any more, as indicated above.