Comet ISON Survives (barely) It's Thanksgiving Day Sun-Dive!
Submitted by MikeFWT210 on Sat, 11/23/2013 - 11:52
UPDATE 11/30/13: Whatever remained after ISON's perihelion looked promising, but the latest LASCO C3 images show ISON fading as it makes it departure from our favorite star. At this point, I can't help but find myself EXTREMELY DISAPPOINTED about this. I've been following this thing for months, hoping for a December light-show to close out the year. At this point, it looks like our "Comet of the Century" won't be ISON. These last few months of tracking ISON has been fun, but it looks like I can tone down the excitement finally.
-----
UPDATE 11/29/13: On ISON's approach, it developed a second tail, leading many to believe that the comet had started breaking up due to the intense solar heat. As ISON swung around the sun, the SDO spacecraft cameras were unable to see much. Initial images from the SOHO spacecrafts were showing ISON dimming on approach, with not much to see post-perihelion. This morning, however, the latest LASCO C3 images indicate that ISON is alive and well and brightening once again. Surely anything can still happen to this thing, but it seems that Comet ISON has survived it's sun-dive (At least a large part of it). Get ready for the light show in December (hopefully)!!!!

www.spaceweather.com
On November 28, 2013, the SDO (Solar Dynamics Observatory) spacecraft will off-point at three different positions as Comet ISON moves through perihelion. This website will display near realtime images and movies of this sungrazing comet. Images should begin appearing sometime between 12:45 pm and 1:00 pm ET.
http://cometison.gsfc.nasa.gov/
Teach kids the wonders of the cosmos on Thanksgiving!
UPDATE 11/27/13: Comet ISON now visible on SOHO LASCO C3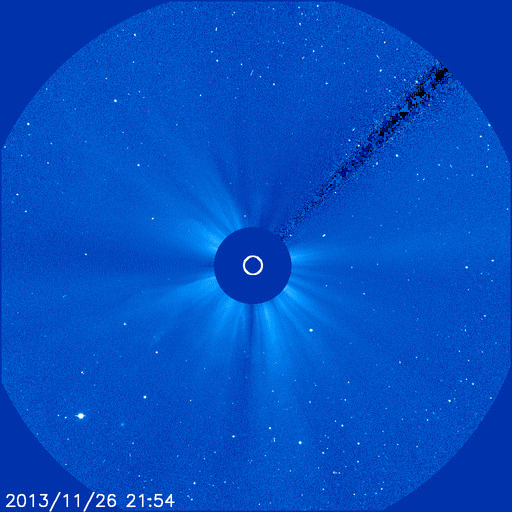 www.spaceweather.com
SOHO:http://sohodata.nascom.nasa.gov/cgi-bin/soho_movie_theater
1. Click on "LASCO C3"
2. Resolution: Your choice
3. Start Date: 2013-11-27
4. Search
ISON JPL (Trajectory): http://ssd.jpl.nasa.gov/sbdb.cgi?sstr=C%2F2012%20S1;orb=1;co...
Bruce Gary: http://www.brucegary.net/ISON/
UPDATE: ISON/Encke visible on STEREO Ahead Spacecraft, HI1 Filter.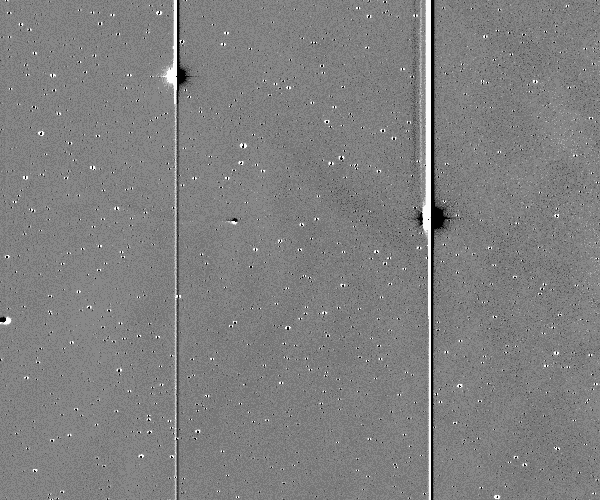 www.spaceweather.com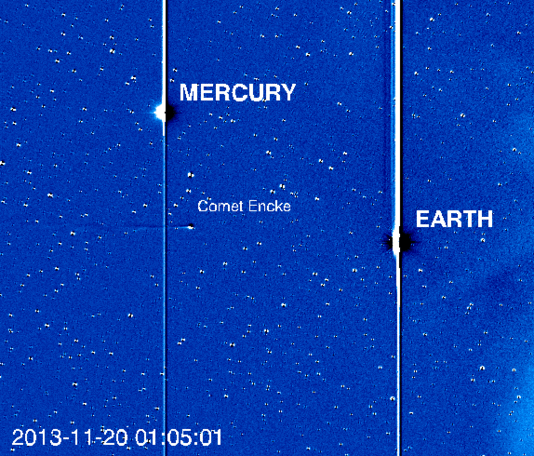 www.spaceweather.com
Encke JPL (Trajectory): http://ssd.jpl.nasa.gov/sbdb.cgi?ID=c00002_0;orb=1;cov=0;log...
http://stereo.gsfc.nasa.gov/cgi-bin/images
1. Click "Ahead HI1"
2. 512x512 Resolution
3. Display: Slideshow
4. Start/End Dates: 20131120 - 20131123
ISON is the white streak coming in from the left. Mercury is White dot on left side of screen (10 o'clock). The white dot near the center is Earth. Look below Mercury (near the level of Earth and prior to ISON entering screen-left), you'll see a faint dot moving down and to the right. That is Comet Encke.