What We Missed in "The Hunger Games" (Ron Paul Institute)
Submitted by ProudAmericanFirst on Thu, 12/12/2013 - 10:11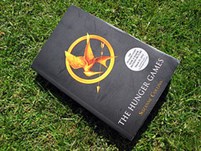 "The United States has been at war for over a decade, the war in Afghanistan now the longest in our history. Recent wars have been responsible for the deaths of almost half a million people in Iraq, tens of thousands in Afghanistan. Those numbers don't include the wounded, the disfigured, the poisoned, the displaced. Those numbers don't include the suicides. The United States has spent $10 trillion on defense and homeland security since September 11, 2001, on bombs, drones, guns, bullets, planes, artillery, tanks, rocket launchers, assault rifles, etc.
.
.
Is this blind spot for war a sign of something, perhaps that our government has finally won their information war, through the use of "embedded" journalism, information classification, and censorship? Perhaps our journalists have been so controlled, so constrained, for the past ten years, that we are barely conscious of the wars that are taking place, let alone the actual "butchering" that they entail, those beastly acts of bombing, shooting, and maiming;"
Continue reading:
http://ronpaulinstitute.org/archives/featured-articles/2013/...