Property Rights Bill Introduced After Va. Woman Threatened with Fines for Kids' Birthday Party -
Submitted by barracuda_trader on Sun, 02/02/2014 - 19:02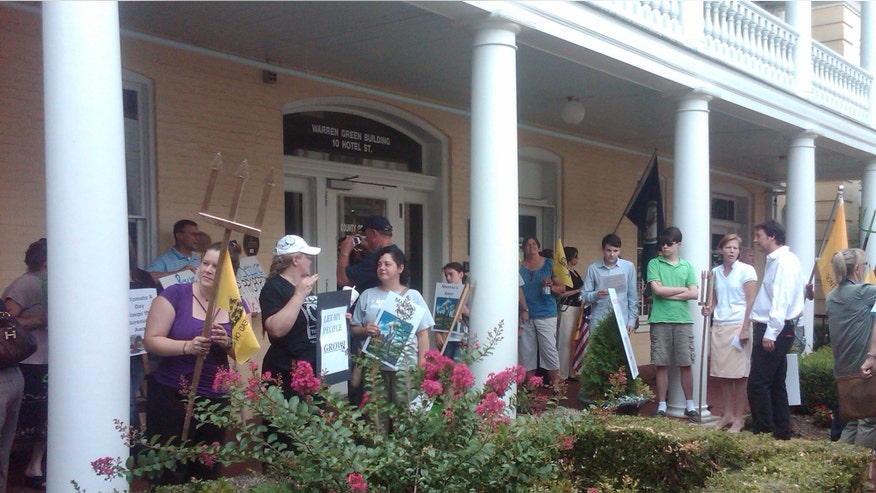 Farmers gather at a Board of Zoning Appeals meeting in Fauquier County Virginia to hold a "Pitchfork Protest" in support of Liberty Farms owner Martha Boneta.
"Local officials who abuse zoning authority powers to cower citizens into submission and deprive land owners of Constitutional rights in the enjoyment of their land must be subject to fines and actual damages they cause including attorney fees," Delegate Bob Marshall noted in support of his HB 1219 recently introduced in the Virginia General Assembly.
Marshall introduced his bill in direct response to incidents precipitated by county officials who threatened Virginia citizen farmer Martha Boneta. Boneta gained national attention after she was cited and threatened with $5,000 per-day fines for hosting such 'menacing activities' as a birthday party for eight 10-year old girls without a permit and advertising pumpkin carvings. Virginians rallied at two "pitchfork protests" in support of Boneta.
Marshall said, "I am convinced this harassment will continue until local officials realize they can be held liable in the form of fines and other costs." H.B. 1219 provides that local governments violating constitutional rights through zoning shall pay their victims (1) the amount of the fines they sought to impose, and (2) actual damages including attorney fees. Local government officials who intentionally violate this law would also be liable.
- See more at: http://www.cnsnews.com/commentary/mark-fitzgibbons/property-...


Pitchfork-wielding Virginia farmers rally against birthday party fine
Pitchfork-wielding Virginia farmers rallied to support a woman who claims local officials came down on her for, among other things, hosting a children's birthday party on her spread.
Martha Boneta, owner of Liberty Farms in the northern village of Paris, was threatened with nearly $5,000 in fines for selling produce and crafts and throwing unlicensed events, including a birthday party for her best friend's child. She told FoxNews.com she wasn't doing anything farmers haven't done for generations, and at a recent zoning board meeting, her agrarian friends literally showed up with pitchforks to express their support.
"It's rather odd that I'm the only farmer in the county having these issues," Boneta said. "It's customary to do these things. It's done through on farms throughout Virginia to help farming and agriculture."
http://www.foxnews.com/politics/2012/08/09/virginia-farmer-t...