Alaska cops FASCISM set to destroy life of bright young woman (Ron Paul supporter)
Submitted by the_chiefe71 on Sat, 02/08/2014 - 06:38
I'm about to share story of Alaska police fascism that is set to destroy career prospects of a very bright young woman. She is one of us. She is apparently a president for Young Americans for Liberty Ron Paul chapter @ a university campus in Idaho. Below is her picture taken with Ron Paul.
I do not personally know this woman, but was alerted to her plight by another bright young woman in Alaska (through a Facebook page I maintain). It was basically a call for help & more publicity. I don't personally know the other woman either, but I presume she is her close friend. She provided me with enough information to share here & elsewhere.
http://www.frontiersman.com/gallery/photo_of_day/means-meets...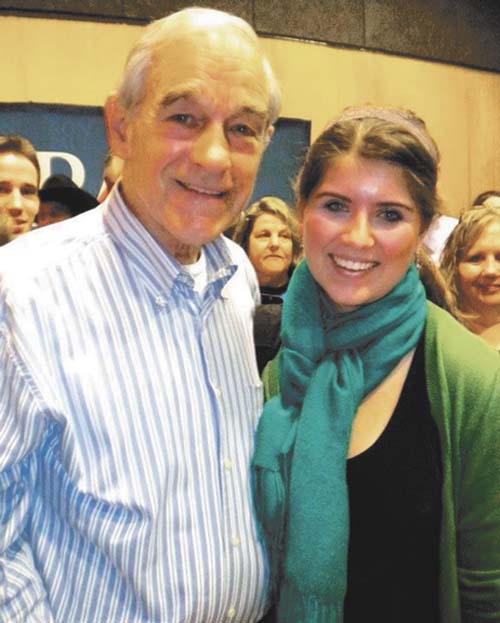 The victim in above picture was stranded in snow near Anchorage with her friends. Under pretext of helping to push vehicle stuck in snow, fascist Alaska cop(s) arbitrarily declared her to be intoxicated. She stood constitutional ground & refused fascist sobriety tests, and had never touched any alcohol. The fascists arrested her, made her & her friend's life hell. No alcohol was ever detected on her, but they refuse to remove fraudulent "criminal" stamp from her records. This facist injustice hurts life & career prospects of a very bright person. Apparently, she was a very good student & had everything well going in life for her.
Story about this covered in local Anchorage Daily News is in below link.
http://www.adn.com/2013/12/26/3247336/lawsuit-asserts-that-a...
Audio recording of fraudulent fascist behavior is in below youtube video:
Her friend has created following website dedicated to this & related police abuse issues:
I advised her to create a petition to take to senators, assembly/Congress Reps etc. & force the issue, which she did @ link below.
http://www.ipetitions.com/petition/alaskajustice-for-a-polic...
I intend to publicize this case to various outlets over the weekend: Ron Paul Channel, Ben Swann, Tom Woods, Lew Rockwell, Alex Jones, Josh Tolley, Blue Republican etc. Please publicize outrage about this injustice & sign petition above. If you can think of any other Constitutional patriot media people to contact for publicity, let me know.