Funeral For A Friend.
Submitted by American Nomad on Mon, 02/17/2014 - 14:35


A few days ago, I lost a very close friend.
We had been close friends for the past 19 years.
Last year he was diagnosed with stage 4 lung cancer.
Now he is gone and we will all miss him dearly.
I knew him as Jeff Myers.
You may know him as J. Jaye Steele.
He was a former lead singer for Head East. (after John Schlitt)
("Never Been Any Reason", "Since You Been Gone",etc..)
J.Jaye also took the stage with Quit Riot, Poison and his first
group, Wintercat among others.
J.J with Head East. (second from left)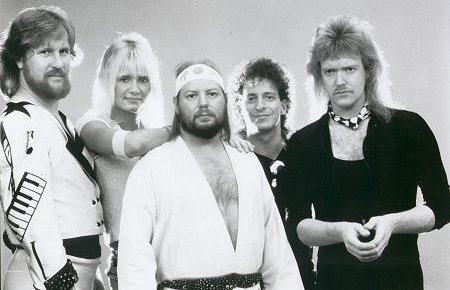 He latest group was called PUSH.
A great band that was on thier way up.
Many national artist would come to sit in with JJ and the band,
such as Brian Howe of Bad Company, Cliff Williams of AC/DC, Stet Howland of WASP and Dennis Eliott of Foriegner to name a few.
(These guys all helped out greatly with benifit fundraising for JJ.)
J.J. with PUSH.

For a moment, it seemed he might beat this thing.
He took the stage on New Years Eve, performing for 50,000 people.
The show was great, and gave us faith that he was back for good.
That was less than 2 months ago. And now he's gone.
My heart is heavy and I feel so alone.
The tears stream down my face as I write this.
We all will miss J. Jaye Steele, the famous singer.
But I will miss my friend Jeff Myers even more.
I knew the side of him that his fans did not.
We had so many good times together.
Jeff is survived by his wife Sandy, son Jeffery and daughter Sierra.
He was an awesome Father and his children reflect that.
Please keep them in your prayers.
Exercise Liberty, Love and Friendship.