Crunch Time: Ares Armor just got illegally raided, AFTER a Fed. Judge's Injunction barring the ATF from doing so!
Submitted by AnCapMercenary on Sun, 03/16/2014 - 08:04
Clarion Call: Friends, Romans, countrymen, SHTF commeth...
Welcome to Amerika North Korea!
Ares Armor Raid 3/15/14

http://youtu.be/XWgU25sZwD0
Xxbanshee13xx
Published on Mar 15, 2014
EXCLUSIVE STILLS, Ares Armor SEARCH & SEIZURE in National City, Ca

Watch as ATF unit searches & seizes CUSTOMER INFORMATION and more. Notice the ATF PHOTOGRAPHING US, notice also the ATF agent standing ominously with ri[f]le staring us down as though we are a threat while they load items seized.
BREAKING: More Video of ATF Ares Armor Raid
By Robert Farago on March 15, 2014
ATF breaks into Ares Armor in National City our Constitution is under Attack!!!!

http://youtu.be/6gsmlJSpWvk
reapersixfour
Published on Mar 15, 2014
This video was taken 3/15/14 @ around 1250 @ the National City Ares Armor location
Additional, more detailed footages:
BREAKING: Ares Armor Raided by ATF
By Dan Zimmerman on March 15, 2014
Ares Armor Raid National City, Ca

http://youtu.be/pRQ3Yk-th0E
Despite being granted a restraining order, the ATF has apparently raided San Diego area firearms parts seller Ares Armor anyway. Ares sells 80% lowers which the ATF has classified as "firearms." The ATF has been pressuring Ares to turn over their sales records or lose them in a raid. Given the threats, earlier this week Ares moved for and was granted a restraining order against such a raid. But the above YouTube video appears to show ATF agents rummaging through Ares, apparently confiscating inventory and, you'd have to assume, their computers and customers records. This video is the only evidence we've been able to find of a raid so far. Stay tuned. [h/t DrVino]
ATF cracking Ares Armor safe

http://youtu.be/6KFjjLXDZ4E
Xxbanshee13xx
Published on Mar 16, 2014
ATF taking a sledgehammer to Ares Armor safe. Notice they try to close the door to prevent us from seeing, but they didn't close it all the way. Thank techie god for zoom.
Mind you, all of that just occurred, right now right now, AFTER a lawful Federal Judge's injunction (I know, right??) BANNING the ATF from raiding Ares Armor was handed down, just days prior!
Gun Parts Manufacturer Files Restraining Order Against ATF

http://youtu.be/iCjb8mVI6TI
TheAlexJonesChannel
Published on Mar 14, 2014
Ares Armor, a California gun parts manufacturer, has filed a temporary restraining order against the Bureau of Alcohol, Tobacco, Firearms and Explosives for fears the federal agency could soon bust down its doors. The report also details Operation Fast And Furious
******************************************************************
Apparently, the illiterate ATF terrorists thought the judge's injunction/ruling was just a mere 'suggestion:' they didn't do no-knock (let alone just ring the front doorbell), no siree, just to make a point: the terrorist primates broke the front door lock open, then the same murderous agency responsible for Waco and Fast & Furious, one that's also part of the same murderous terrorist regime that the we-love-to-spy-you-long-time-NSA is part of, decided all on their own, that they're soooooo full of moral autho-ri-teh now, that they thought it to be just another day at the Orwell park to break into a private property, and steal a private business' customer information! Yay!
Hm, wonder if there are any citizen groups going around SWAT raiding govt agencies... Oh right: Rules for thee, None for me! Yay!
Apparently Ares Armor FaceBook account is kaput, too (as per Mark-'my 'customers' are all a bunch of "dumb fcuks"'-Zuckerberg's new Bloompansyberg-acquiescent anti-gun policies, perhaps?) ; type it, and it just goes to FB homepage, not Ares' acct.: https://www.facebook.com/aresarmor
From a r3VOL gunnie:
The ATF will SWAT team Ares Armor customers so get ready!

http://youtu.be/jEJxwI_tzgw
justinwoolee
Published on Mar 16, 2014
The ATF gang will be violating the 4th Amendment some more and murdering people !
Local News Coverage:
ATF attempts raid to gather customer names at local tactical store

http://youtu.be/-3hc6WMfWMI
Ares Armor is founded by Dimitrios Karras, a USMC combat vet & infowarrior whose store makes and carries several innovative tactical products to serve the ever besieged anti-gun Commufornian market:
Ares Armor - 2014 SHOT Show

http://youtu.be/ImsJg2B4RI4
Ares Armor
Published on Jan 21, 2014
Ares Armor, home to the 80% lower and known for tactical gear and build your own AR15's and AR10's. The SHOT Show Product Spotlight crew is at the Ares Armor booth to check out their latest products debuting at the 2014 SHOT Show. Find Ares Armor at booth #2927 on Level 1 of the Sands Convention Center - Las Vegas, Nevada.
Visit our website at https://aresarmor.com

Follow AresArmor: http://Twitter.com/AresArmor
Like AresArmor: http://Facebook.com/AresArmor
Ares Armor vs. ATF terrorists, a Timeline: http://aresarmor.com/store/NewsArticle/Temporary_Restraining...
Mr. Karras is determined to stay in Commufornia, to make a point:
CTA: City Threatens Tactical Store with Jail Time for AR-15 Sign

http://youtu.be/RzBkcUZnm-w
nutnfancy
Published on Feb 23, 2014
"Take down the sign or go to jail. We do not approve of guns...or you." This is the unmistakable messages sent by progressives when they take over a city's government and freedom pays the price. Ares Armor is a small tactical store operating one of their stores in National City, CA, a suburb of San Diego. Nevermind that CEO Dimitri and his staff at Ares Armor are in complete compliance with all laws and ordinances.

That does not matter.

That's because guns are at the heart of this debate.

The City Council has taken offense to their presence there and is pulling out all the stops, perverting the legal system to destroy them. But Ares Armor stands unbowed and has paid $10,000 just in the appeals process just seeking justice.

Dimitri, a combat USMC infantry vet from both Iraq and Afghanistan, stands in defiance of this attack on both 1st and 2nd Amendments rights. And yet he faces an uphill and expensive battle with slim odds (note the so called "appeal" process he discusses)...
A follow up interview by Nut N'Fancy, after the injunction was successfully handed down, barring ATF from raiding Ares Armor:
ATF Raids Store for Gun Owner Names, Overrides Court Order

http://youtu.be/NBVzsfF_wIM
nutnfancy
Published on Mar 14, 2014
Tactical supplier Ares Armor remains embattled from all sides it seems. It seems out of this world. Again they are facing "criminal charges" but this time from the ATF! Concurrently this small company is fighting their California city to maintain their sign advertising (watch https://www.youtube.com/watch?v=RzBkcUZnm-w).

David meets Goliath in a freedom battle.

The facts are examined honestly here. The ATF is seeking to confiscate their customer records and $300,000 worth of inventory from Ares.

Why?

In this TNP news report you'll see the answer really is not founded in rule of law. The fact is Dimitri Karras, CEO of Ares Armor, is a freedom maverick and sells things that offend political sensibilities of the progressive. Never mind they are completely LEGAL.

In question in this ATF scare is the 80% complete AR-15 lowers, particularly the polymer ones. ATF says showing the customer where to drill them out violated their classification of non-firearm (what?!). That may have basis and it may not. But again their approach is heavy handed designed to bring submission, resistance and discussion not welcomed. And at the heart of this approach is the ATF demand for customer records.

In reality this is yet ANOTHER confiscatory ploy for law abiding legitimate purchasers.

Many questions arise:

- What does ATF intend to do with that information?
- Why does it need it?
- How did Ares find out about it?
- How long can the injunction last?
- What legal foundation do they have to do this?
- Can Dimitri and staff really go to jail over this?
- Is this related to the attack by National City on Ares' sign out front (AR-15)?
- Is this a publicity stunt?
- Does the ATF charge have any validity?
- How can Ares Armor stand against this and how much does it cost them to do so?
- Is the legal/political process working to stop these Gestapo like tactics or are things too far gone for that?

The answers come in this hard hitting news piece as we interview Demtri and take a hard look at this case study for both small business and personal freedom and security in this country.

Court restrains ATF from seizing Ares Armor inventory and customer records


ATF accuses Ares Armor of illegal gun sales in response to restraining order


Contact is requested to these California legislators to protect Ares Armor and Dimitri Karras 1st, 2nd, and 4th Amendment rights and due process:

Email Darrell Issa: http://forms.house.gov/issa/webforms/contact.html
DARREL ISSA Facebook: https://www.facebook.com/darrellissa
Darrell Issa Twitter: https://twitter.com/darrellissa

Washington DC Office
· 2347 Rayburn House Office Building Washington, DC 20515
· Phone: 202-225-3906
Vista District Office
· 1800 Thibodo Road, #310 Vista, CA 92081
· Phone: 760-599-5000

Email ROCKY CHAVEZ: http://arc.asm.ca.gov/member/AD76/?p=email
Rocky Chávez Facebook: https://www.facebook.com/assemblymanrocky.chavez
Rocky Chávez Twitter: https://twitter.com/AsmRocky
District Office
1910 Palomar Point Way, Suite #106
Carlsbad, CA 92008
(P) 760-929-7998

Capitol Office
State Capitol Room 2170
Sacramento, CA 94249
(P) 916-319-2076
CA r3VOL, send in the reinforcements!
******************************************************************
That said, really though... still think there's anything TO 'restore,' left??
Considering that the "Karras"-surname certainly is most likely to be a Greek one, nothing seems more fitting: ΜΟΛΩΝ ΛΑΒΕ!
Apropos of which, a recent Stewart Rhodes Interview: Get Ready!

The Gun Show Oath Keepers Interview

http://youtu.be/0AGynkqVkaE
PrepperProject
Published on Feb 3, 2014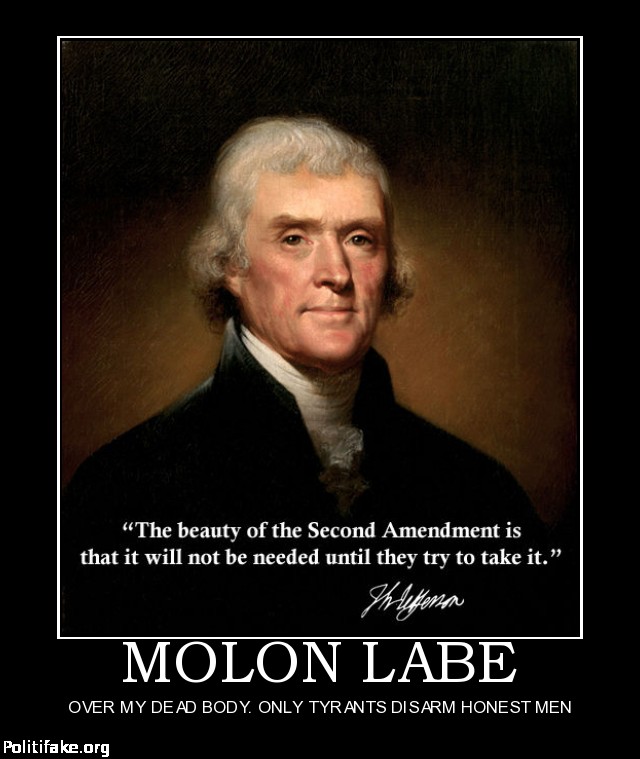 ******************************************************************
Meanwhile... in the slightly more free-ish-er Tejas, people open carry protested into the heart of the ongoing SxSW festival...where even 'liberals' & a few 'trendies' love guns, too:
Armed Texans March To The Heart Of SxSW

http://youtu.be/2-X6rUYS0yA
TheAlexJonesChannel
Published on Mar 15, 2014
Over 100 activists carrying a variety of rifles marched into downtown Austin, Texas today to the heart of the SXSW music festival in order to educate festival goers on their Second Amendment rights.
******************************************************************
A slight non-sequitur, but ever wonder how the REAL Ruskie Special Forces train?
With live rounds...ON more live bodies!
When a former 1st SFOD-D meets active Spetsnaz/FSB:
INSANE Russian Counter Terror Confidence Drill

http://youtu.be/rI01qKAqYts
VickersTacticalInc
Published on Mar 15, 2014
You've never seen anything like this!!!
Then again, sometimes a 'Crazy Ivan' does indeed become a lethally Reckless Ivan, er... in this case: Crazy Sonny Puzikas
Statement from the Range Owner Regarding the Recent Accidental Shooting
Sonny Puzikas – Operator Level Downgraded
He should rename his site from Gospel Of Violence to Gospel Of Negligence:

Interview with Sonny Puzikas

http://youtu.be/SNF2e8a7hV8
James Yeager
Published on Feb 25, 2014
******************************************************************
UPDATE 1: Copies of the Temporary Restraining Order
H/T: ThereIsNoSpoon
Later one: http://www.scribd.com/doc/212508154/Order-Clarifying-TRO-Are...
H/T: UAstudy
******************************************************************
UPDATE 2: My fave USMC potty-mouthed infowarrioress on this insanity:
Ares Armor PT 1

http://youtu.be/_zcViTeAJ1w
Thepoliticalport
Published on Mar 16, 2014
I see some of these agents are wearing wedding rings, so to the spouses of those agents, your husbands are... and you're... for staying with them.
https://www.youtube.com/watch?v=156yYtABQ-Q
https://www.youtube.com/watch?v=pRQ3Yk-th0E
https://www.youtube.com/watch?v=XWgU25sZwD0
Ares Armor PT 2...share far and wide

http://youtu.be/jJbO-th2fw0
Thepoliticalport
Published on Mar 16, 2014
208 N Freeman St, Oceanside, CA 92054
(760) 650-2737
******************************************************************
UPDATE 3: Dimitrios Karras responds to the illegal raid
This is Sparta! AMERICA! Karras, once a fighter, always a fighter! At least now, he's fighting for what is right, and not for the Empire.D
Ares Armor CEO After ATF Raid: We'll Be Back In Biz Monday
By Robert Farago on March 16, 2014

(Picture, courtesy of Russ Carlson)
Ares Armor CEO Dimitrios Karras posted an update on Facebook:

"The ATF did execute a search warrant against all of our buildings today. None of our employees have been detained or arrested. We will be open for business tomorrow. We will be back up and shipping out orders on Monday. We wholeheartedly believe that they are WRONG in their actions and we will be relentlessly pursuing remedy through the courts. Quote from an ATF Agent during the raid 'searching is fun! paper work sucks.' Maybe the ATF thinks the Constitution is part of that paper work that sucks… Despicable behavior on their part. This is just the beginning! Thank you all for the support!"

Yes, well, how many people will be ordering "untraceable" 80% AR-15 lowers from Ares now, given the ATF troll through Ares' records? [h/t DrVino]
******************************************************************
UPDATE 4: Dimitrios Karras, CEO of Ares Armor interviewed by Stewart Rhodes!
Stewart Rhodes interviews Ares Armor CEO Dimitrios Karras

http://youtu.be/WsMcsy0D3v8
OathKeepersOK
Published on Mar 18, 2014
Stewart Rhodes interviews Ares Armor CEO Dimitrios Karras and Socal Oath Keeper John Oetken about the raid on Ares Armor
And, an insight from an AnCap attorney Rob "Tripp" Cameron, aka TheRealTrippleB @YT
http://www.modernamericanlawyer.com/
Why Ares vs ATF Should Outrage America

http://youtu.be/hqjYEFIwUT8
therealTrippleB
Published on Mar 17, 2014
Every American should be outraged over the events transpiring between Ares Armor and the BATFE; even the anti-gun folks!

links:
http://aresarmor.com/
http://aresarmor.com/store/NewsArticle/Temporary_Restraining...
http://www.guns.com/2014/03/17/ares-armor-raided-atf-restrai...
http://www.thetruthaboutguns.com/2014/03/daniel-zimmerman/br...
https://www.youtube.com/watch?v=pRQ3Yk-th0E
----------------------------------------­­­­­-------------------------
NO LEGAL ADVICE is intended in any way by the content of this video. Consult your local laws and local licensed attorney for any legal matters.
----------------------------------------­-------------------------
More Videos @: https://www.youtube.com/user/therealTrippleB

More Headlines @:
https://www.facebook.com/pages/TherealTrippleB/196103573855342
http://twitter.com/therealTrippleB
Laws Don't Stop ATF (Ares Armor Update)
March 16, 2014
You have a restraining order to stay action by a government agency. No action can be taken pending a court hearing on the merits of the agency's request for information from your legitimate business; a business that has in no way demonstrated illegal conduct that an officer could swear to under oath as a matter of affirmative fact before a judge to satisfy granting of a search warrant. That and 25 cents will buy you a gumball.

Undoubtedly the BATFE's lawyers will claim this B&E is legal under the "lawful criminal proceedings" clause added into the restraining order against the BATFE from Ares Armor. What good, however, are legal protections if government agencies have a blank check to circumvent all legal proceedings?

[...]
Further update from TTAG:
Ares Armor Update: The Skinny on EP Armory Polymer 80% Lower Receivers
By Nick Leghorn on March 17, 2014

Let's look at the situation surrounding Ares Armor, EP Armory's lowers, and why the ATF might be interested.

Ares Armor is a distributor of EP Armory's polymer 80% lower receivers. The claim to fame for these models is that the lower receivers are two different colors — one color for the receiver itself, and a completely different color for the parts that need to be milled out to complete the gun. It's the equivalent of a "paint by numbers" approach to firearms manufacturing, making the process nearly idiot-proof.

The problem is the definition of an "80% lower." The appeal of the 80% lower receiver is that it is legally just a chunk of metal and not a firearm, so it skirts nearly all of the gun laws in the United States right up until the point where someone drills out all the required parts and assembles their own gun. In order to maintain that status, the lower needs to be like a block of marble in an artists' studio: just raw material with the finished product still needing to be chiseled out. According to the ATF's "once a gun always a gun" doctrine, the instant the lower is milled out and completed it's officially a firearm and subject to all of the applicable laws. Even if you go back and fill in the relevant sections, it's still a gun that you just manufactured and must be treated as such.
Previous TTAG update:
Search Warrant: Gun Stores "Helping" Build 80% Lowers Deemed Illegal
By Nick Leghorn on March 17, 2014
[UPDATE: 3/18 11:38 PM] I have just spoken with Dimitri at Ares Armor, and he has confirmed that the raid was over polymer lower receivers and their unique method of manufacturing and not related to build parties as speculated in this article. So while this article still describes an active ATF investigation related to 80% lowers, it appears to be unrelated to Ares Armor. The article has been updated to reflect this new information.

The Ares Armor case is interesting, but another investigation relating to 80% lower receivers involves some of the sketchiest gun stores I have ever heard of. Take a peek . . .

An 80% lower is, in a legal sense, just a hunk of metal. It's not a complete firearm, so it isn't treated like one. It's no more a firearm than a block of marble is a work of art by Michelangelo. But it has enough of the rough dimensions of an AR-15 lower receiver that finishing the project and turning it into a functional gun is almost trivial — drill a couple of holes, mill a few locations, and presto, you have yourself a gun.
******************************************************************
UPDATE 5: Ares Armor CEO on Alex Jones Show; ATF = Completely Insane: Actually, Once defined Shoestring as a "Machine Gun!" - No Joke!
Fascist-Style ATF Raids Ares Armor: Owner Speaks Out

http://youtu.be/QeTMNj6xFWI
THElNFOWARRlOR
Published on Mar 19, 2014
Alex welcomes to the broadcast Dimitri Karras and Lindy Diaz of Ares Armor, the firearms part retailer in San Diego that managed a crucial victory when it obtained a restraining order against the Bureau of Alcohol, Tobacco and Firearms.
https://aresarmor.com/
ATF Threaten Gun Dealers After Going Public About Illegal Raid

http://youtu.be/P2YsyzrVyBQ
THElNFOWARRlOR
Published on Mar 19, 2014
Alex continues with the owners of Ares Armor discussing their recent raid by the ATF despite a court order disallowing the illegal search. https://aresarmor.com/

https://twitter.com/RealAlexJones
https://www.facebook.com/AlexanderEmerickJones
http://www.infowars.com/
http://www.prisonplanet.com/
http://www.infowars.net/
http://www.prisonplanet.tv
Pardon me, I literally thought I saw as much govt insanity, tyranny, cruelty, and Kafka-land as they come, but even this was news to me...and shockingly surprising...though nothing should be, by now:
Why the ATF's Firearm Testing Procedures are Scientifically Invalid


After very aggressive action by JPFO and others, the BATFE decided to back down. This article has been re-formated Feb 2012. When pictures expand - note - there is an enlargement option icon lower right on most.
by Len Savage
Owner, Historical Arms LLC
With the amount of documentation now publicly available it has become obvious that there is a serious problem within the Firearms Technology Branch (FTB) of the Bureau of Alcohol, Tobacco, Firearms, and Explosives (ATF).

The technicians who work at FTB testify before the courts as "experts" on the technology of firearms. They may or may not have any real-world or industry experience. It is a fact that no technician at FTB has ever held a federal firearms license or ever designed a firearm. Unfortunately the problem runs even deeper than that. The recent public exposure of an incompetent FTB technician, Michael J. Cooney (U.S. v. Glover), which resulted in the dismissal with prejudice of a federal prosecution of an innocent citizen, raises troubling questions about the legal validity of past prosecutions in which Mr. Cooney testified, and possibly those of other FTB technicians.

Congress has given the ATF the task of "classifying" firearms - for instance, determining whether a firearm is a common, semi-automatic that fires one shot with each trigger pull or whether it is a machine gun, designed to fire multiple rounds on one trigger pull (full auto). Numerous gun owners and gun makers have been bankrupted or imprisoned because the ATF stated that their firearms were "illegal machine guns" rather than semi-autos. If the ATF's classifications were accurate, then this would just be a matter for lawyers and lawmakers. But there is ample evidence – and not only in the case of Mr. Cooney -- to indicate that the ATF's classifications are arbitrary and inaccurate. The ATF seemingly does not employ consistent testing criteria and standards.





Gun makers baffled by ATF criteria; Models OK'd on case-by-case basis
By Chuck Neubauer
The Washington Times
Monday, January 2, 2012
That process, known as "letter rulings," results in various findings about what makes a weapon. Program critics, including the ATF's former assistant director of criminal investigations, said one determination contended that a shoestring was a machine gun.

"When the rules are subjective and continue to change, we cannot expect these business owners to comply with moving target regulations. These inconsistent rulings from the bureau are confusing and result in a waste of time and resources," said Rep. Phil Gingrey (right), Georgia Republican. (Associated Press)

The Bureau of Alcohol, Tobacco, Firearms and Explosives is in charge of determining whether a gun model is legal, but the agency won't say much about its criteria.

Despite overseeing an industry that includes machine guns and other deadly weapons, ATF regulations for the manufacture of weapons are often unclear, leading to reliance on a secretive system by which firearms manufacturers can submit proposed weapons for testing and find out one at a time whether they comply with the law, critics say.
ATF Agent: Raiding Gun Store Was "Fun"
Armed goons took pleasure in forcibly seizing list of gun part owners
Paul Joseph Watson
Infowars.com
March 18, 2014
A Bureau of Alcohol, Tobacco, Firearms and Explosives agent who was involved in the armed raid on a California gun parts and accessories store this past weekend described the raid as "fun," according to Ares Armor CEO Dimitrios Karras.

After Karras learned that the ATF wanted Ares' customer list and inventory of composite "80% lower receivers" for AR-15 rifles, he obtained a temporary order which restrained the ATF from forcibly seizing the items.

However, after pressure from the Department of Justice, Judge Sammartino reversed the restraining order and armed ATF agents raided Ares Armor on Saturday, but not before interrogating customers outside the store.

[...]

The raid has also prompted a number of memes, which can be viewed below. [What's life without some gallows humor, eh?]





**********************************************************
UPDATE 6: 'ATF-approved inspected AR Lower Parts Kit' for Sale, by Ares Armor! LOL!
Ares Armor Makes Lemonade With "BATFE Inspected Quality" LPKs
By Chris Dumm on March 19, 2014

"BATFE Inspected Quality"!! "Raid of 2014"!! - Image courtesy Ares Armor
The ATF's jackbooted and illegal raid on Ares Armor has made headlines for days, but it doesn't seem to have intimidated the National City, CA manufacturer one bit. Instead of bowing and scraping to the ATFE's scofflaws with badges, they're using the ATFE's notoriety to help them move some of their (remaining) inventory.

Stock lower parts kits (LPKs) for AR rifles are as common as Ford F-150 trucks, but Ares is banking on the infamous raid to make their plane-Jane LPKs just a little more desirable.

Since the ATFE turned the Ares Armor offices upside down and 'inspected' everything in their illegal search for, well, something worth searching for, Ares is marketing these LPKs as 'BATFE Inspected.' And since Ares is being careful not to use the BATFE logo in their advertisements, there's not a damned thing the jackbooted thugs can do about it. Which is awesome.
**********************************************************
UPDATE 7: Ares Armor CEO Dimitrios Karras on why stay in the anti-Gun Commufornia: "This is my home; I'm not leaving!"
Ares Armor CEO Tries to Reason with ATF over Customer Privacy; Raid Ensues

http://youtu.be/nkexneHJ3vY
ReasonTV
Published on Mar 19, 2014
"This isn't just a second amendment issue, it's not just a firearms issue. It's an issue of an overreaching government that wants to come into your kitchen, that wants to come into your living room, and just see what you're doing," says Dimitrios Karras, CEO of Ares Armor in Oceanside, Calif.
Last week, the Bureau of Alcohol, Tobacco, Firearms and Explosives (ATF) raided Ares Armor to confiscate 80 percent polymer receivers for AR-15s. These receivers are the lower part of the gun that contain the trigger operations when fully completed. The polymer version that the ATF is contesting is not completed and requires the purchasers to finish machining it. The ATF claimed that these are unlicensed firearms, but Karras says otherwise.

"It's an object that's in the shape of a receiver, but it hasn't been completed to a point that it would be considered a firearm," says Karras. "This was a nice way for them to get their arm inside of the business and grab the information that they are actually looking for. To think that this is over a piece of plastic is ludicrous."

Karras says the true reason for the ATF's piqued interest in his shop was his refusal to relinquish the list of customers who had purchased the polymer product. He sat down with Reason TV's Tracy Oppenheimer to discuss why he plans to continue fighting the ATF to maintain his customers' privacy and other Constitutional issues at stake.

"They have trampled on the entire Bill of Rights," Karras says.

About six minutes.

Produced by Tracy Oppenheimer. Camera by Alex Manning and Zach Weissmueller.

Scroll down for downloadble versions and subscribe to Reason TV's YouTube Channel for notifications when new material goes live.