Obama calls for sanctions, possible military strike on Venice, "all options on the table".
Submitted by Smudge Pot on Tue, 03/18/2014 - 13:20

in
03/18/2014
SPN, Washington DC.
In a continuance of present policy regarding the Ukrane, President Obama today announced that "we can bomb anybody and if this trend of separatism continues we will".
"All over the world people are just deciding for themselves what country they want to be in and that's just not the way the world works" said president Obama. "Developments in Venice are particularly troubling to us and we need to send a clear message: all options are on the table" said Obama. Accordingly, the White House has ordered all new formal table service, the centerpiece of which is a dazzling array of stemware of famed Venetian glass and crystal.
The many benefits to the USA are expected to include a new interest in Renaissance arts.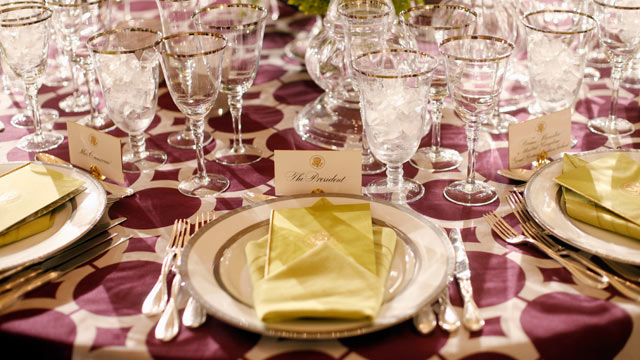 "Let's see base plates, dinner plates, salad plates, b and b plates, salt service, fish knifes, full silver, we even got the ramakins. There" said president Obama. "Now all the options are on the table. They don't make anything else we want do they?" asked Obama. An aid then whispered something in the president's ear which caused the president to break out into a broad grin and say "heck yeah, a Boccaccio in the pool room. Make it happen."
Sanctions against Venice are already underway said one perplexed White House staffer. "It's a strong move, Venice is still part of Italy and it's not clear how war or even sanctions against Italy are gonna wash with G7 and NATO" said the staffer. "But you know how it is, this guy gets an idea in his head and well, whatever, we're at war with a nation that doesn't presently exist and hasn't for hundreds of years" said the staffer.
You've seen the Russian military in the Ukrane now see what our brave troops would face in Venice.
The Venetian navy, once the scourge of other nations, has been mobilized.

Venice is reported to have advanced airforce weaponry.

The Venetian army is a bit rusty according to one volunteer. "Last time we fought a war was against Napoleon" he said.

*****************************************
* MORE AMERICANS TRUST SMUDGE POT NEWS!
* than really should.
*****************************************