Poll: Which president is the best/worst since WW II
Submitted by Ed Thinking on Wed, 07/02/2014 - 17:03
According to a Quinnipiac University poll released Wednesday, 33 percent of voters think the current president is the worst since 1945.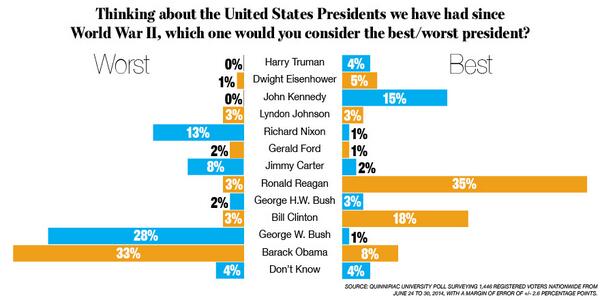 Obama's predecessor, former President George W. Bush, came in at second-worst with 28 percent, and Richard Nixon was in third place with 13 percent of the vote. After Jimmy Carter, who 8 percent of voters said was the worst president in the time period, no other president received more than 3 percent.
Thirty-five percent of voters said Ronald Reagan was the best president since World War II, receiving nearly twice as many votes as any other former president. Bill Clinton came in second place at 18 percent, while John F. Kennedy came in third with 15 percent of the vote and Obama came in fourth with 8 percent saying he was the best.
Continues: http://www.politico.com/story/2014/07/poll-obama-worst-presi...