Liz Wahl Redux: Another RT 'Reporter Quits' like CoinkyDink; Just when Another WH/State Dpt War Propaganda vs Russia ramps up!
Submitted by AnCapMercenary on Sat, 07/19/2014 - 21:58

in
Proof positive that KGB/FSB's background check protocol ain't all that it's cracked up to be. Just so y'all know, when a war can't be instigated against Russia next time...er, again? Expect another RT reporter presstitute feigning indignant about the ever oxymoronic "lack of journalistic integrity" something something about inability to reconcile with their nonexistent conscience, and 'resign suddenly' on cue:
Russia Today reporter resigns in protest at MH17 coverage
Sara Firth criticises Kremlin-backed news channel's 'disrespect for facts' in reports about Malaysia Airlines plane disaster
John Plunkett
theguardian.com, Friday 18 July 2014 09.31 EDT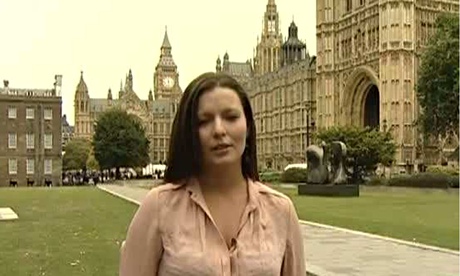 Sara Firth Sara Firth has resigned as London correspondent for Russia Today over coverage of the MH17 plane disaster.
A London-based correspondent of Kremlin-funded news channel Russia Today has resigned in protest at its coverage of the shooting down of Malaysia Airlines flight MH17.

Sara Firth, who worked at Russia Today for five years, described the channel's reporting of the crash in which 298 people were killed, including a former BBC journalist, as the "straw that broke the camel's back".

Russia Today, which has been criticised as a propaganda mouthpiece for the Russian government, suggested Ukraine was to blame for the crash, while most media organisations have said it was shot down by a suspected Russian-made missile.
Hm...let's see what CIA cloud whoring Bezo's WaPo's scribes have to propagandize about it:
RT blasts back at latest departure: 'We have different definitions of truth'
By Erik Wemple July 18 Follow @ErikWemple
Another big story, another high-profile departure: Russia Today's (RT) Sara Firth has resigned over the network's coverage of the downing of Malaysia Airlines Flight MH17. RT is the Kremlin-funded international news agency that made headlines earlier this year as anchor Liz Wahl resigned on-air, denouncing its alleged efforts to "whitewash" the actions of Russian President Vladimir Putin.

As for Firth, it was a matter of conscience, she told the Erik Wemple Blog today. The London-based correspondent has been with RT since 2009, first as a Moscow-based reporter. Over the years, she says, RT allowed its people to do tough journalism so long as it pleased RT editorial sensibilities. "I can question the British government," said Firth, noting that such stories generally "fit" the RT "narrative." But too often she encountered a company line that didn't make room for unfavorable publicity about the network's funders. For instance, Firth said she was pulled out of Syria after a dispute with her supervisors over the drift of coverage toward Russian ally Bashar Al-Assad. "We need you back in Moscow," Firth said she was told after raising concerns. (Waiting for reaction from RT on this front).

I resigned from RT today. I have huge respect for many in the team, but I'm for the truth. pic.twitter.com/mZ1g0R7N0D

— Sara Firth (@Sara__Firth) July 18, 2014

When the story concerns Russia and Ukraine, the 28-year-old Firth suggested that there's no place to hide at RT. That's right at the core of RT's mission, and a predetermined viewpoint will be pushed on air, she said: "In a situation like that, you just see how little regard they have for the facts. It's a real shame."
Oooh sanctified MSM-indoctrinated presstitutes 'suddenly' growing conscience...at apt geopolitical pivot markers.
[pause] BWAHAHAHAHAHA!!!
http://www.dailypaul.com/314864/truth-behind-james-kirchick-...
http://www.dailypaul.com/313882/ron-paul-liz-wahl-is-lying-m...
http://www.dailypaul.com/314947/remember-the-mainstream-frot...
http://www.dailypaul.com/315044/proof-liz-wahls-resignation-...
http://www.truthdig.com/report/print/how_cold_war-hungry_neo...
Nope. Nothing strange here. These aren't the droids you're looking for!