Shocker! (OK, Not Really...): PHX Hoplophobe gets an actual Brain Doctor arrested...LIED about It: NEVER pointed his AR Muzzle!
Submitted by AnCapMercenary on Sun, 08/03/2014 - 00:13
Of course, Ernie Hancock's close friend, libertarian philosophical kin, USMC vet, AZ r3VOL, and lawyer, Marc Victor represented Dr. Peter Steinmetz, and will fully clear him :)
Sadly, the Doc's position at the hospital is in jeopardy, for something that NEVER happened, all courtesy of the post-9/11 DHS policestate SnitchKulture that's become of Amerika; when delusions and 'hurt feelings' are enough to have another fellow American arrested...
Attorney Marc Victor - Peter Steinmetz Case

http://youtu.be/2vtPZFUyaIE
Marc Victor
Published on Aug 1, 2014
Marc Victor on Channel 12 News discussing his client Peter Steinmetz. Mr. Steinmetz brought an AR15 to Sky Harbor Airport and was arrested for disorderly conduct with a firearm. Mr. Steinmetz was acting peaceably and never threatened anyone.

A medical researcher didn't hurt anyone when he carried an AR-15 rifle into Phoenix Sky Harbor International Airport last week, but he certainly ignited a debate.

Gun rights advocate Alan Korwin said Peter Nathan Steinmetz was perfectly within his rights to bring the rifle into the public section of the airport: only the area behind the Transportation Security Administration security checkpoint is a "gun free zone.''

More at: www.AttorneyForFreedom.com
Video: Doctor with AR at Phoenix Airport Was Falsely Accused
By Dean Weingarten on August 2, 2014
Unnamed witness: "at no time was anyone swept." Dr. Peter N. Steinmetz is director of the Brain Modeling Laboratory at Barrow Neurological Institute in Phoenix. He is a Second Amendment advocate who comments on firearms issues on his Facebook page. He is a passionate supporter of freedom in the United States who opposes the excesses of the TSA. He protested TSA excesses by legally carrying a slung rifle in the non-secure part of the Phoenix airport in November of 2013 . . .

From azcentral.com, concerning the November protest:

"I was going to tell you earlier, but I will now," Steinmetz is quoted as saying in the November report. "Well, I am really here to protest the TSA and their policy of strip-searching Americans and all their stuff."

From a post on google+ on November1, two days before the protest, Dr. Steinmetz writes:

They have never demonstrated they have foiled even one plot, and of course, one's chances of being killed in a terrorist attack are minuscule to start with compared to routine daily risks. For the sake of this security theatre, we tolerate a continual invasion of our privacy. Time to get rid of the expensive and wasteful TSA!

On July 25 of this year, Dr. Steinmetz exercised his rights again, carrying a slung rifle into the unsecured area of Sky Harbor Airport. But this time, he was arrested, booked, and taken before a judge. It was reported that he was charged with two counts of disorderly conduct involving a firearm. It was claimed that he had inadvertently and briefly pointed the muzzle of his rifle at two women, who were later said to tell police that they were frightened.
Again, apropos time to download uber awesome O.G. Libertarienne Claire Wolf's new FREE eBook, RATS! 'Cause Amerika be full of 'em, now!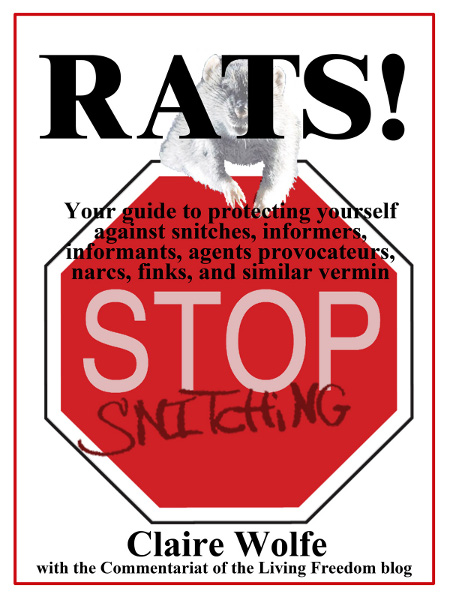 Download:
http://rats-nosnitch.com/rats.mobi
http://rats-nosnitch.com/rats.epub
http://rats-nosnitch.com/rats.pdf
Read Online in HTML: http://rats-nosnitch.com/rats/
ADDENDUM:
In another 2A news, according to an internal audit (shocking, I know: a govt agency that actually does an honest-ish audit) apparently former DEA agent Lee Paige (who infamously, literally shot himself in the foot, while giving a 'gun-safety' demo showing off like an imbecile in front of school kids, who is now suing...for making an ass of himself) isn't the only govt terrorist moron fond of shooting himself: behold, the IRS' goonsquad, shot themselves MORE, than they shot others "in the line of duty"!!
IRS: The Gang That Can't Shoot Straight
By Dan Zimmerman on August 1, 2014
Those of you concerned about the Internal Revenue Service's information processing and archiving practices should probably be just as worried – if not more so – about the training of their agents who carry firearms. As cnsnews.com relates, "Special agents at the IRS accidentally shot their firearms 11 times between 2009 and 2011, and at least three of the cases 'may have resulted in property damage or personal injury.' Agents actually fired their guns accidently (sic) more often than they intentionally fired them in the field, according to an audit by the Treasury Inspector General for Tax Administration (TIGTA)." It's been said that the power to tax is the power to destroy. It seems that our friends, the revenoors, are doing their best to demonstrate the truth in that old adage.
Don't know if I should scoff at their idiocy, or fume at the double-loss of stolen tax-dollars wasted on 'training' buffoon sans-trigger-discipline monkeys, or thank God and just celebrate, seeing as how they're such poor shots that they're now less likely to shoot innocent Americans with focused purposeful intention (though, also equally raises the possibility of shooting bystanders, like the NYPD), or... just ROFLMAO!! xD
and... in more incompetent CA SWAT operator wannabes 'news': Alameda County Sheriff's Dept SWAT AND BombSquad & Hayward, CA PD 'raid' stand off for 7hrs+... vs an EMPTY HOUSE!
CA SWAT Team Ends 7-Hour Standoff of Empty Home
By Robert Farago on August 1, 2014

SWAT team hanging out (courtesy ktvu.com)
"It started just before 10:00 a.m. when Alameda County [CA] Sheriff's deputies went to serve an eviction notice to a tenant," ktvu.com reports. "Hayward police say when deputies entered the home, they found suspicious notes indicating there were explosives inside the home. That's when the bomb squad and SWAT where called to the scene, and streets were blocked off to traffic. Neighbors in the surrounding homes were told to evacuate. One of them told KTVU she text messaged with the man, who police aren't identifying yet . . .

"When I text him I just said, 'the bomb squad is here, cops are here'," Jenny Raisler said reading their text exchange on her phone. "I was just saying, 'Look, if you went crazy and made a bomb, let me know so I can get out of here!' He just said, 'I have no idea what they're (law enforcement) talking about'." . . .

In the end, law enforcement determined there was no one home, and no bombs inside. Officers did recover weapons and will be checking to see if they are registered.

Hayward police are not releasing the name of the man who they believed was in the home, but said they are still looking for him.

Bomb maker or not, I would not want to be that guy. Know what I mean? [h/t JL]
**************************************************************
UPDATE 1: Press Conference + Q&A, and radio interview
Doctor who carried gun into Sky Harbor speaks

http://youtu.be/hluR6iFx0Ac
FOX 10 Phoenix
Streamed live on Aug 4, 2014
Press conference with Dr. Peter Steinmetz and his lawyer.

Dr. Steinmetz was arrested on one felony count of disorderly conduct with a weapon after bringing an AR-15 into the airport when he went for coffee at Starbucks.

Read more at: http://bit.ly/1mWB8kT
KFYI Jim Sharpe - Marc Victor - Steinmetz

http://youtu.be/DO_aalewyqM
Marc Victor
Published on Aug 5, 2014
Attorney Marc J. Victor on Sharpe in the Morning with Jim Sharpe discussing the Peter Steinmetz Case. Dr. Steinmetz is charged with Disorderly Conduct after bringing his AR-15 Rifle to Sky Harbor Airport in Phoenix. Attorney Marc J. Victor represents Dr. Steinmetz.