Roman Empire Slaughtered by Their Own Paid Assassins. Professional protectors Demanded Their Pensions.
Submitted by Mark Twain on Sun, 08/31/2014 - 22:06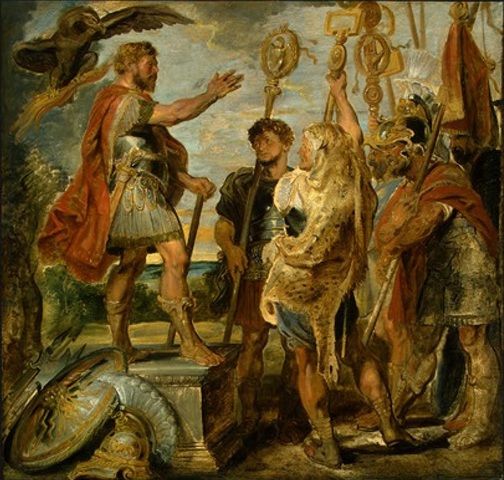 Securing police pensions... in the time limit set by Rome... 20 years. Using force, or just the threat of force... to secure pensions is common... Enforcers routinely back up their requests with their force.

The last Roman Emperor was Romulus Augustus (475-476AD). He was overthrown; it was all about pensions being worth their weight. Rome died by the sword of their own professional army; slaughtered by the sword of their own paid assassins... non-Roman mercenary-soldiers. Countries often offer citizenship to join their military. The USA makes the very same offer.
Odoacer
When the auxiliary general named Odoacer demanded estates as part of their pensions for serving in the Roman military, he and his followers were refused. Odoacer led his troops and swept into Italy pledging to his soldiers that, if they followed and obeyed him, they would, in the words of Gibbon, "extort the justice that had been denied to their dutiful petitions." Consequently, the Germanic Arian Odoacer confirmed his leadership of the revolt and the mercenary-soldiers... Barbarians... plundered Italian cities and garrisons and more troops flocked to his side hoping for the better pensions he offered.
---
Whether acting or just reading lines from a dramatic play, what would you do as Emperor, whilst hordes marched upon your empire gates?
Propaganda film (2 minutes) about how weak Rome has become... as the mighty Roman Army approaches Rome to sack it... for unpaid promises of pensions... Circa 475 AD.
The Roman Empire fell when its money value fell so low, it could not even satisfy military pensions. The military turned its power to overlord those that thought they were the overlords.