Buy a THISTLE shirt. get a Josie the outlaw wanted poster free!
Submitted by Thistle on Tue, 09/02/2014 - 10:34
Hi every body at Daily Paul.
My name is Todd E. Morse. Over the last several years I have made a living selling a line of T-shirts, out of my car. My brand is called THISTLE omnipresentation. I'm tired, I want a better way of life!
Over the last couple mouths I have been working hard to make a change in my life. I made the FRNs to buy
45 used silk screen frames to produce all the shirts, I have ever made. and the money to get the shirts.
I have also been working hard to make a online website store, to sell them. To do that you need a bank account. To get a Merchant account to accept credit cards. I got my bank account, and thats were I hit my brick wall. I don't want to go in to details. But if you think the money you put in your bank account is yours
think again.
I have printed all the shirts that I have made and have them ready to sell! To do that online I set up a shop at Freedoms Phoenix. Were to can sell your products for free. They are just asking for a small donation for doing so! Will provide link below!
You may remember me. I'm the guy of that made Josie the Outlaw stickers and posters.
heres the links if would like to see.
http://www.dailypaul.com/307608/josietheoutwalcom-poster-and...
http://www.dailypaul.com/324062/i-screen-printed-500-josie-t...
Heres some thing My little sister wrote about me
" THISTLE omnipresentation, like its designer and creator, is a outlaw born out of the dust of a dot on a map. What started as a seed of inspiration on a Anza, California ranch in 1996, has turned into a weed that is spreading through the cultural underground on the backs of the backs of the new American disciples.
For over 18 years THISTLE omnipresentation has been propagated through the sweat and labor of its expert knowledge of the screen press has enable Morse to create for and work with such action sports apparel greats as O'neil, Volcom, Quicksilver, Soul, Roxy, Ruca, Von Zipper, Paul Frank, Skin, Unleashed, Third Rail, Mob Inc, Little kings, Voodoo, Claret, Spent. to name a few. Like a ghost in the wind. Morse has carried his own brand with him where ever he has gone, Seeking to implant and grow his vision from the ground up.
Morse's original artwork, imprinted by hand on THISTLE omnipresentation products, has been sold in every dark saloon, tattoo parlor, pool hall, dusty skate park and motorcross track in southern California. His gorilla warfare approach to selling t-shirts has made him celebrity within this vast army of customers, selling and using his God given right to make a living for him self and his three sons.
THISTLE omnipresentation lives up to its resilient name sake. Thistle grows on fertile land gone bad, bring meaning where there was noting. Like the weed, THISTLE omnipresentation may prickel, but it will also ensnare with its tenacious and elegant thorns of truth. Its purple crown of spines is armed but should not be considered dangerous unless liberty is treaded upon.
THISTLE omnipresentataion wearers share the proud determination of the thistle. They seek land where they may flourish without the need for subenance, or fear of being mowed down for living their lives as they see fit. They are the new patriots, asserting their right to noble provocation, and unique apparel."
Please check out the photos of my shirts. If you like one please order one at the link below. and I will send you a free Josie the Outlaw wanted poster while supplies last
Good girls will kill you, Bad girls give you medicine.

Bloody rare, But alwise well done! Always tender never tuff, Taste good but it might be rotten!

Nascar motorhead style Built tuff! Breast Feed!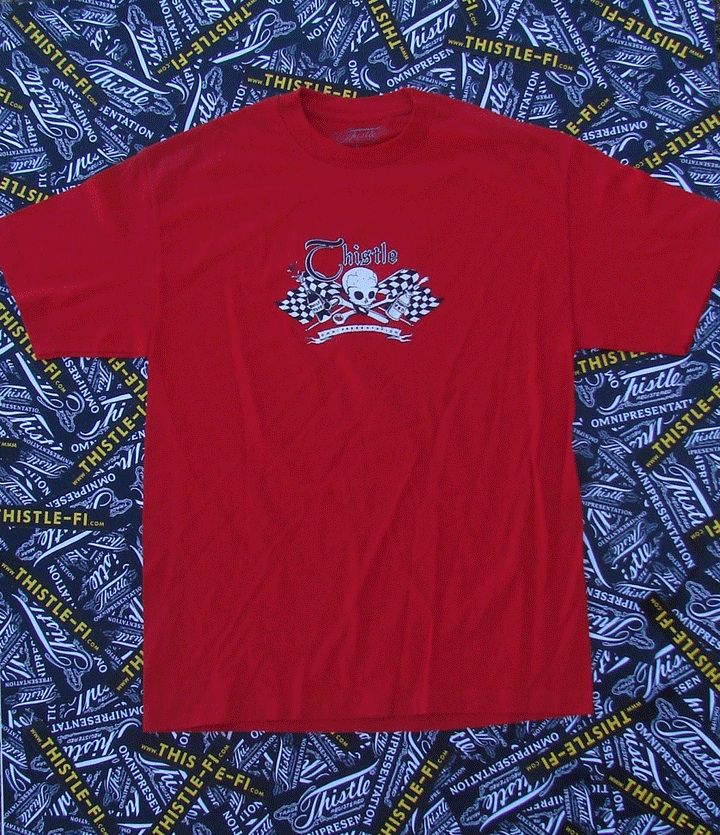 pirate or patriot? Looting the gold or using my god given rights! with the Declaration of independence
on the back

This is my THISTLE! This is my Brand! There are many like it, But this one is mine.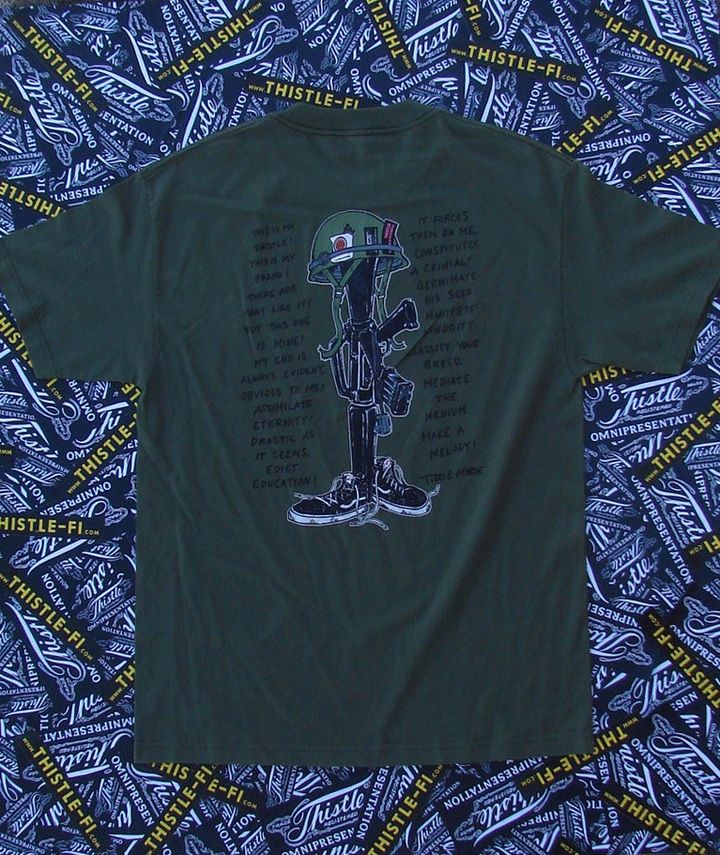 I have 14 different shirts for sell please check them out at:
http://www.freedomsphoenix.com/Market/Shop-Category.htm?Cat=...
Thanks for your Time
Todd E. Morse
PS I did all the artwork and design! Setup and screen print my self, hope you like!